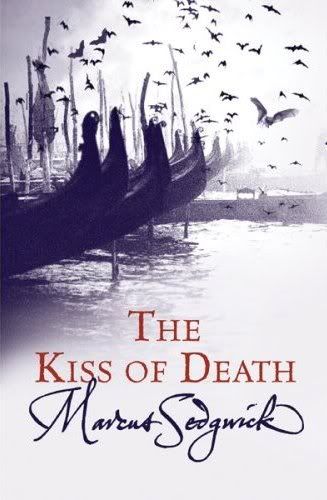 From Amazon:
Marko and Sorrel meet in Venice for the first time. They must uncover the mystery of what has happened both to Sorrel's father, plagued by a strange madness that prevents him from sleeping, and to Marko's father, a doctor, who has mysteriously gone missing after travelling to Venice to help his old friend. Peter is still on the trail of the Shadow Queen. His search leads him to Venice, a city whose beauty disguises many ugly secrets. The Shadow Queen is there, gathering strength, recruiting a new army of the Undead for a final confrontation.

The Kiss of Death
is a vampire story with a difference. It's atmospheric and compelling, and combines an excellent writing style with an original plot.
Main characters Marko and Sorrel are well written, and are realistic and brave. The lengths they go to to find their missing fathers is admirable, and the dangers they face never slow them down. It's family loyalty at its best, and their unwavering love for their fathers is exactly how it should be.
The richly detailed Venice backdrop is unusual and brilliantly described, and I found it very easy to imagine the setting. From the buildings to the boats to the water, nothing is ignored. I especially liked the inclusion of a fairytale, and the extracts at the end of each part added an extra touch to the story. It was great to see a couple of familiar characters return, and for their journeys to be resolved.


The Kiss of Death
is well worth a read, either as a standalone novel, or as a companion to
My Swordhand is Singing
. Marcus Sedgwick is one of the UK's best, and deserves more recognition than he gets!