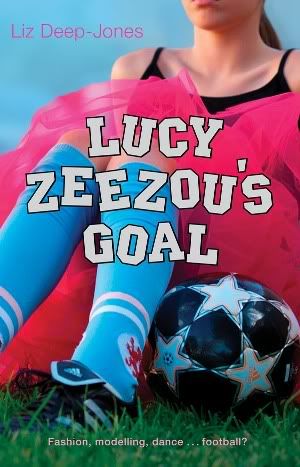 From Amazon:
Lucy's family is famous for two things in Italy: soccer and fashion. Her pushy mother wants her to model for the family's fashion label. Even worse, Lucy's father—captain of Milan's premier soccer team—agrees. But Lucy has been leading a double life, playing soccer on the side when she isn't modeling. When she and her mother move from Milan to Sydney to be closer to her grandparents, Lucy has the chance to come clean about who she really is and what she really wants to do with her life.

Lucy Zeezou's Goal
is a fun story about passion, determination and family. It shows that girls can play football (soccer) too, and that following your dream is possible.
Lucy is a headstrong character who doesn't let gender stereotypes stand in her way. If she wants to do something, she does it, regardless of whether it's expected or not. I really liked this about her, along with her family loyalty. Family really is the most important thing in life, and it's great to see a young character relying so heavily on that bond.
I also liked the subject of football and sport, as it's not something I come across very often. There was a lot of sports terminology throughout the book which, luckily, I could understand, because I like football myself. Famous players are referred to, such as Kaka and Beckham, which helped add realism to the story. A few of the plot twists seemed a bit far-fetched, though maybe real football coaches do actually go through simlar experiences. If they do, and if that's what being in the football spotlight brings with it, then I'm glad I'll never have to be put in that position.
The writing style is quite simple and to the point, which is exactly as it should be for the novel's desired market of 8-14 year olds. I think girls (and probably boys, too) of this age would really relate to the characters and situations, and it might even give younger aspiring footballers the motivation to carry on. For fans of football and stories of growing up and holding your own,
Lucy Zeezou's Goal
is sure to be a hit with its target audience.