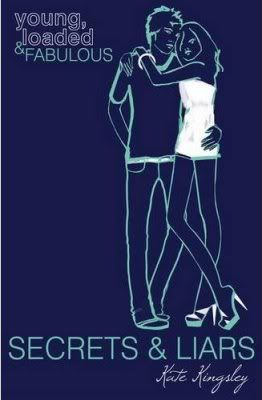 From Amazon:
Love is in the air at St Cecilia's: Alice Rochester has a new man in her life, much to her ex Tristan's dismay, Tally Abbott and hot new teacher Mr Logan's secret tutorials are getting cosier and new girl Dylan Taylor is being well and truly romanced by Jasper. But when the crew all head over to Rome for Alice's cousin's lavish engagement party hosted by Italian Vogue tensions are high. Will it all end happily ever after?
Secrets & Liars
is the second book in the brilliantly addictive
Young, Loaded & Fabulous
series. It's scandalous, shocking, and exactly how I'd imagine a UK-based
Gossip Girl
.
Alice, Tally and T are back for another term at St. Cecilia's boarding school, where nothing ever goes according to plan. Alice is still getting over T, while Tally is treading on dangerous ground with a teacher. Add to that trips to Ireland and Rome, and things really heat up for London's favourite spoilt rich girls.
I love books centred around gossip and intrigue, so I was really excited to read this. Although the characters are an exaggeration of today's teenagers (as far as my personal experiences are concerned), I still can't help liking them. They're self centred and bitchy, but strongly committed to their relationships with each other -- whether it be romantically or otherwise. I like Kate Kingsley's easy writing style, and her knack for capturing the dramas and dilemmas of teen years.
A highly recommended series for fans of Cecily von Ziegesar, Kate Brian and Lisi Harrison,
YLF
is outrageous and oh-so-good. I can't wait for the next book!