Irven Keppen is the self-published author of the
Legends of Midralon
series (book one review
here
). In this interview he talks about all things fantasy, self-publishing and movies. Thanks, Irven!
----------
What inspired you to write the
Legends of Midralon
series?
My children were the biggest inspiration behind writing this series. I really wanted to give them something special and unique. I thought creating a story and basing the characters of that story on them would be the best way to do that. Several parts of the book and some of the dialogue are based on real events that have happened and this all helped me add a very personal touch to the story. Of course I was also influenced by other authors that have done the same thing such as Tolkien and C.S.Lewis, but writing is something I've always dabbled with and wanted to do more of, so it became a second source of motivation for me to write the books. The most difficult part was hiding my activity from my children, who often wondered what I was so madly typing away at on my laptop.
Just how difficult is it to self-publish a book, and what does the process entail?
Excellent question! I always smile when someone asks me how hard it was to write the book. Actually writing the book was the easiest part, while self-publishing it has been the most difficult and time consuming part of the whole process. There is a lot of trial and error involved. Finding and hiring a freelance editor that you can trust and work with, finding a print-on-demand service that you can work with, learning to format your manuscript to meet their submission requirements, and the costly mistakes that necessitate ordering yet another proof of your book can all become a do-it-your-self nightmare. I've learned quite a bit about the publishing industry, from ISBN numbers, to distribution channels, to copyright laws and the list goes on and on. I've chosen to do a lot of the work myself: making the covers, creating the interior maps and doing the layout of the interior pages as well. I've had to learn to work with a multitude of applications and while I'm not a master at them, I've become quite proficient with most of them. The most important thing I've learned is to have patience. Not being patient can be very costly in the long run. If you take your time and do not skip any steps, you will be that much more satisfied with your final product.
How many books do you plan to write in the
Midralon
series?
Originally, I had only planned on writing one book, but about halfway through writing it I realized it was going to be an impossible task. I just wasn't able to give each of the main characters enough of the focus I wanted them to have. So I made a decision at that time to split the story out into four parts with each of the main characters having a book dedicated primarily to them. This has worked out well, giving me more story to work with and room to further develop the background story of the land of Midralon. There is a strong possibility that the series may live on after these four books though, as I've already come up with the seed ideas for at least three spin-off novels. However, these won't be a continuation of the first four books. Instead, they will explore other areas of Midralon.
If you could be anyone from
Midralon
, human or otherwise, who would you be and why?
(I'd like to be the fairy Greenblade!)
That is a tricky question to answer in that I don't want to give away any spoilers. Also, my children would be upset if I picked one of the characters based on them and not the others. So I'll settle with choosing one of my other favorites: Helgi. Everyone seems to like the gruff dwarf and I think he'll only become more endearing as the series goes on. I like Helgi's sense of humor and his obvious compassion. He is well known in the realms of the Midralon and has a sterling reputation. And if that's not reason enough,wearing all that armor would keep me safe from Nooben blades.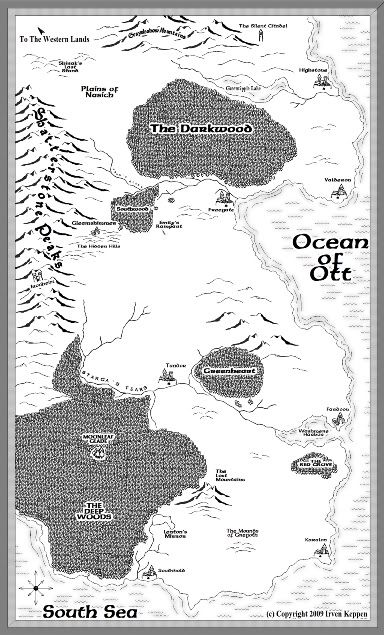 Do your family think it's cool that they've been characterised in a fantasy story?
One of my fondest memories of this whole process was receiving the very first edition of book one that I had printed early on. It was a fairly plain looking hardcover book with a black cover, the title and a few other decorations. I handed it to my daughter and asked if she'd heard of the book or read anything else by the author. Watching her eyes grow wide as she saw the author's name and then read the title of the book is a very special memory for me and one that I will never forget. All of them are very excited about the books and have already been sharing their status as inspirations for fictional characters with their friends and schoolmates. The hard part is delicately informing my other relatives that they will probably not be in the story (unless the story itself tells me that they belong in it.)
I love the cover for
Emily & the Silent King
, and it looks like a lot of work went into it. Did you create it digitally?
At first, I intended to hand draw the covers and then scan them in and retouch them, but I realized it would take too much additional time to get it done. So, I decided to create it digitally. The final cover is really the culmination of several different applications. The 3D models were posed in one application. Their colors and looks tweaked in Photoshop and then everything was imported into a 3D landscaping program for a final rendering. Then the resulting output from this application was again tweaked and modified in Photoshop. I did end up digitally painting several sections by hand. These were mostly light touch-ups where I thought the rendered product was lacking. I am very pleased with the cover for
Emily & the Silent King
and can only hope the succeeding covers live up to the first.
Can you tell us anything about the plot for book 2,
Devin & the Empire of Wolves
? I'm dying to know what happens next!
Well the children have all become separated now and some interesting things lay in store for them. The second book picks up immediately with Devin and what happened to him after the battle at Freegate. He has to deal with a very angry warlock who is determined to pursue him to the ends of the world, if necessary. His flight will take him further into the heartlands of Midralon where he will encounter some new allies as well as some new and fearsome creatures. The second book is a little different in pacing, because now I have to deal with multiple characters in multiple locations. I'm excited to see how the readers will react to some of the new directions the story takes in book two as well.
Are you a fan of
The Chronicles of Narnia
and
The Lord of the Rings
novels? If so, what do you think of the movies?
I am an avid reader and fantasy is my favorite genre to read. But I must confess that I've only read
The Lion, the Witch and the Wardrobe
in the
Narnia
series. I have watched both the movies and thoroughly enjoyed them. I thought the director did a great job with how he portrayed Aslan in the first movie. I am still partial to the old cartoon version of the Lion, the Witch and the Wardrobe as well. It was that early cartoon that led me to read the book.
I am a huge
Lord of the Rings
fan. I have read the trilogy several times over and most of his other works, including the
Silmarillion
. I thought the movies did a fairly good job of telling the story. I still get shivers when Gandalf faces the Balrog! I wish they could have done even more on some of the movies but overall I was very satisfied with it. I have high hopes that Peter Jackson will do
the Hobbit
movie, I would very much love to see the battle of five armies portrayed on the big screen!
Speaking of movies, if
Midralon
ever made it onto the big screen, who would you like to see bring your characters to life?
I've jokingly discussed this very question with friends and family. For me I think I would like to see either Guillermo del Toro or Peter Jackson. Peter Jackson for obvious reasons and Guillermo for his work on
Hellboy
and
Pan's Labyrinth
. I really like some of the visuals that Guillermo comes up with and would love to see how he would interpret the world of Midralon into a movie. Frankly though, I would just be stunned and honored to ever see it on the big screen in the first place.
----------
Related links:
Irven's blog:
Legends of Midralon
Midralon on Twitter:
@Midralon

My review:
Emily & the Silent King

by Irven Keppen
Also, Irven has sent me a promotional code to get 20% off his book at CreateSpace, should any of you guys want to order it. Go to the Midralon page
here
, and this is the promo code you'll need to enter at the checkout:
NBGRYAQ4.