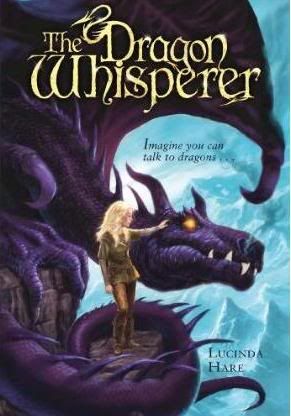 From Amazon:
Quenelda's greatest ambition is to fly a mighty battle dragon and join her father the Earl DeWinter in the war against the Hobgoblins. Root's ambition is to avoid man-eating dragons at all costs. They seem an unlikely duo but when Root is assigned as Quenelda's squire an unexpected friendship is born. Meanwhile dark forces are at work, there is a ruthless traitor at Dragons dome about to carry out a deadly plot. But the enemy haven't reckoned on Quenelda and Root or a powerful ancient magic that everyone thought was lost...
There aren't that many YA fantasy books around at the moment, so I was really looking forward to reading
The Dragon Whisperer
. I love dragons -- I think they're fascinating creatures, and I can never resist a book that includes them in its story.
Lucinda Hare has a nice, smooth writing style, and her love for animals becomes apparant from page one. The way she describes dragons makes them sound like the royalty of the animal world, and their colours and patterns sound beautiful. It's a good job they don't exist (well, as far as I know!), or I'd no doubt be trying to find myself a dragon egg or two!
The plot includes a fair bit of dragon action, battles with Hobgoblins, and evil warlocks. The pace was a bit slow for my liking, but when it picked up, it
really
picked up, and I couldn't read fast enough. Quenelda and the little gnome Root are a very unlikely duo, and seeing their friendship unfold was my favourite part of the book. Tangnost the dwarf was also a favourite character of mine, and I liked how he was completely loyal to Quenelda and her father. The illustrations included throughout the book pretty much sent me to geek heaven: not only could I read about dragons, I could look at pictures of them too. Cool? Yes, very.


The Dragon Whisperer
will appeal to any age, especially those readers with an interest in fantasy worlds and creatures. If you 're a fan of Christopher Paolini's
Inheritance Cycle
, I'd recommend giving this one a go -- it's an enjoyable dragon-centric debut novel!