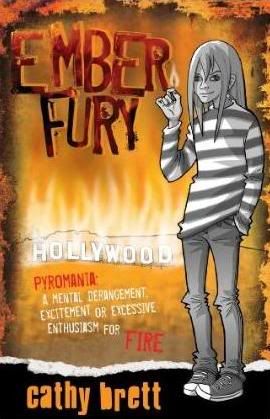 From Amazon:
Having celebrity parents isn't as hot as it sounds. Yes, there's money to burn, fame and some totally smoking guys...But when your dad's more interested in blazing a trail to the top of the charts than why you got kicked out of school, again, it can make you seriously angry. And if there's one thing Ember knows, it's that the smallest spark of anger can ignite a whole heap of trouble...
Q: What do you get when you combine quirky artwork, a fast-paced plot, and a snarky teenage pyromaniac?
A:
Ember Fury
.
This book is a brilliant accomplishment -- part novel, part comic -- and I can't even begin to imagine the time and effort that went into creating it. The editing process alone must have been difficult to get through, and Headline should really congratulate themselves for producing such a unique novel. Author Cathy Brett's illustrations are stylish and original, and provide a great visual aid to accompany the text.
Ember herself is my favourite kind of character: sarcastic, flippant and somewhat socially awkward. Her thoughts and one-liners thoroughly entertained me, with her acerbic deliverance being my high point of the dialogue. The way she handles her family's fame and fortune is true to life, and probably the main reason for her less than respectful behaviour. Best friend Ned is a cool addition to the off-the-wall characters, and has a very interesting problem of his own. All I'll say is that it allows for some scenes to take place in WWII, which is a highly unexpected plot twist.
I really enjoyed
Ember Fury
, and have already read bits of it again, mainly so I can just stare at all the fantastic pictures. Even if you aren't a big fan of graphic novel type books, you should definitely give this one a try. It has much more depth than you might think and, at its core, is about a girl with a penchant for fire trying to find her place in the world.