In My Mailbox idea from Kristi @ The Story Siren, and all descriptions from Amazon.
Another cool week for me! Some of these books were pretty cheap, which is why I bought them. I love
The Book People
!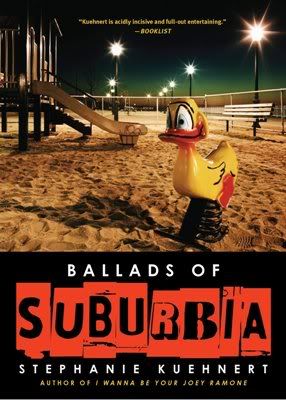 Ballads of Suburbia
by Stephanie Kuehnert
(Really looking forward to reading this!)
Kara hasn't been back to Oak Park since the end of junior year, when a heroin overdose nearly killed her and sirens heralded her exit. Four years later, she returns to face the music. Her life changed forever back in high school: her family disintegrated, she ran around with a whole new crowd of friends, she partied a little too hard, and she fell in love with gorgeous bad-boy Adrian, who left her to die that day in Scoville Park....Amid the music, the booze, the drugs, and the drama, her friends filled a notebook with heartbreakingly honest confessions of the moments that defined and shattered their young lives. Now, finally, Kara is ready to write her own.
-----

Ithaka

by Adele Geras
(I enjoyed
Dido
, so hopefully I'll like this one too!)
"Ithaka" tells the story of the women left behind after the end of the Trojan War. While Odysseus is slowly making his way home, overcoming terrible obstacles sent by the gods, his wife Penelope does not know whether he's alive or dead. How long will she be able to withstand the pressure of the numerous suitors who seek her hand (and Ithaka) - and will she remain as faithful as mythology states, or might she fall in love with one of them? The vivid colours of life on the abundant island of Ithaka are evoked with magic and warmth, as Penelope and those around her tell their own incredible stories. Interspersed with wonderful verse retellings of Odysseus' adventures, this is a thrilling novel with a contemporary feel.
-----
My So-Called Life, The Life of Riley & The Meaning of Life
by Joanna Nadin
(Funny books! Yay!)
Rachel Riley is the offspring of a depressingly unbroken home. Her mum and dad refuse to let her have a mobile phone, and have banned Ribena (too purple) and Eastenders (too common); her seven-year-old brother buys giant Des Lynam cut-outs and Will Young dolls from ebay and talks in Elvish; and the adopted dog eats her Pride and Prejudice boxed collection. It is time to change things. Rachel resolves that this year she will become tragic, literary and interesting - and will win the heart of Justin, the lead guitarist from Certain Death, along the way. Laugh-out-loud funny from beginning to end, this is a fresh new voice which will speak directly to teenagers everywhere. If Bridget Jones had kept a diary when she was a teenager, it is unlikely to have been this funny!
-----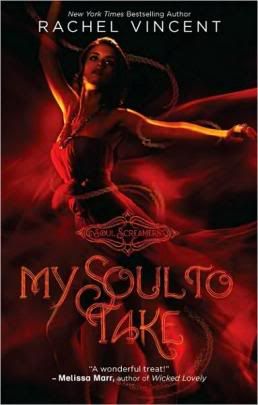 My Soul to Take
by Rachel Vincent
(This one sounds very good!)
She doesn't see dead people, but… She senses when someone near her is about to die. And when that happens, a force beyond her control compels her to scream bloody murder. Literally. Kaylee just wants to enjoy having caught the attention of the hottest guy in school. But a normal date is hard to come by when Nash seems to know more about her need to scream than she does. And when classmates start dropping dead for no apparent reason, only Kaylee knows who'll be next…

-----


Ostrich Boys
by Keith Gray
(I want to read this one right now!)
It's not really kidnapping, is it? He'd have to be alive for it to be proper kidnapping.' Kenny, Sim and Blake are about to embark on a remarkable journey of friendship. Stealing the urn containing the ashes of their best friend Ross, they set out from Cleethorpes on the east coast to travel the 261 miles to the tiny hamlet of Ross in Dumfries and Galloway. After a depressing and dispiriting funeral they feel taking Ross to Ross will be a fitting memorial for a 15 year-old boy who changed all their lives through his friendship. Little do they realise just how much Ross can still affect life for them even though he's now dead. Drawing on personal experience Keith Gray has written an extraordinary novel about friendship, loss and suicide, and about the good things that may be waiting just out of sight around the corner ...
-----



Private
by Kate Brian
(I love the new UK covers for this series!)
The good, the bad and the beautiful...When Reed Brennan arrives at Easton Academy, she discovers that everyone is more sophisticated, more gorgeous and a whole lot wealthier than she is. She feels like an outsider, looking in ...until she meets the Billings Girls, the most beautiful, intelligent and powerful girls on campus. Reed vows to do whatever it takes to be accepted into their inner circle. But once she's in, she discovers there's more to the Girls' closets than designer clothes - they're hiding skeletons too ...and secrets which must be kept PRIVATE. Whatever the cost



-----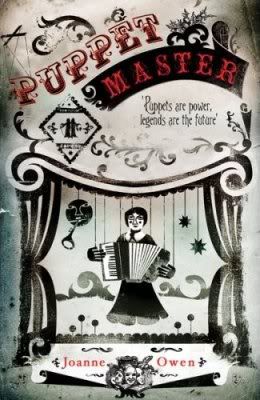 Puppet Master

by Joanne Owen
(
For review
. Signed. Thanks Joanne!)
From riches to rags, Milena is growing up in the city of Prague at the turn of the twentieth century. Her parents' once prosperous theatre lies in disrepair and her life seems to be in ruins, and has been since that fateful night her father died in a tragic accident and Milena's beautiful, talented Mother went missing. No trace of her has been found. But Milena has never lost hope that she will come back. The day she meets the flamboyant Puppet Master and his menacing proteges, the twins Zdenko and Zdenka, under the shadow of Prague's famous Astronomical Clock in the Old Town square is, coincidentally, the date of her mother's birthday. And it's the day Milena's grandmother chooses to reveal to her the story of her ancestors... and of her legacy. Or perhaps it's not such a coincidence. Joanne Owen's debut novel skilfully mingles the legends of Bohemia in a story rich in the traditions of circus, theatre and magic, all set in a city waiting to lay bare a myriad of secrets.
-----

Screwed
by Joanna Kenrick
(Thanks to Jo at
Ink & Paper
for the recommendation!)
Marsha is a fourteen-year-old slag. She and her friend Faith regularly go out looking for a good time, which more often than not involves sex. Both from broken homes, they don't see anything wrong with the way they behave. Until Marsha meets Rich. Rich is different. Unsure, and from a loving family, he finds Marsha a bit too full on. But being with Rich is like being with a friend - one who listens to her and asks her opinion. Rich makes her feel that she's worth more than a quick s*ag in the park. But is it possible to change? Screwed examines the question of peer pressure, family and their influence on identity. It also takes a frank look at the all-too-common social problem of underage sex and its consequences.
-----


Ways to Live Forever
by Sally Nicholls
(This sounds sad, but it has been recommended by pretty much everyone I know, so I thought I'd give it a try).
My name is Sam. I am eleven years old. I collect stories and fantastic facts. By the time you read this, I will probably be dead. Sam loves facts. He wants to know about UFOs and horror movies and airships and ghosts and scientists, and how it feels to kiss a girl. And because he has leukaemia he wants to know the facts about dying. Sam needs answers to the questions nobody will answer. WAYS TO LIVE FOREVER is the first novel from an extraordinarily talented young writer. Funny and honest, it is one of the most powerful and uplifting books you will ever read.
-----



Kissed by an Angel
by Elizabeth Chandler
(
For review
. Very excited about this one!)
Ivy and Tristan are meant to be together. Both stunningly attractive, brilliantly talented and very much in love, they think their happiness will last forever. When a terrible car accident shatters their world, killing Tristan and injuring Ivy, she must face life alone - or so she thinks. However, Tristan is watching over her as her guardian angel - so close she can feel his touch and hear his voice. And no one needs a guardian angel more than Ivy, because someone is trying to kill her. But if Tristan saves Ivy, his mission on earth will be finished, and he'll have to leave her behind. Will saving Ivy mean losing her forever?
-----


Six Steps to a Girl, Three's A Crowd & The One and Only
by Sophie McKenzie
(I've read
Six Steps
, but haven't read the other two. I'm looking forward to them! )
Luke spots Eve at his dad's funeral. She's hot - and she's the perfect distraction from his messed up family life. There's only one problem - she's got a boyfriend. Still, Luke's not going to give up that easily...When he meets Ryan at a party and hears about 'the Six Steps method' to guarantee success with any girl, Luke determines to put it to the test. Step by step, he begins to get closer to Eve - but one step forward seems to mean two steps back, and when he's hospitalised by the jealous boyfriend, he wonders if any girl - even one as gorgeous as Eve - is really worth it...
-----
My friend Clare from Borders Glasgow also got me a signed copy of City of Bones, from their Cassie Clare/SRB event. Thanks Clare!

Hope everyone had a great week! :)