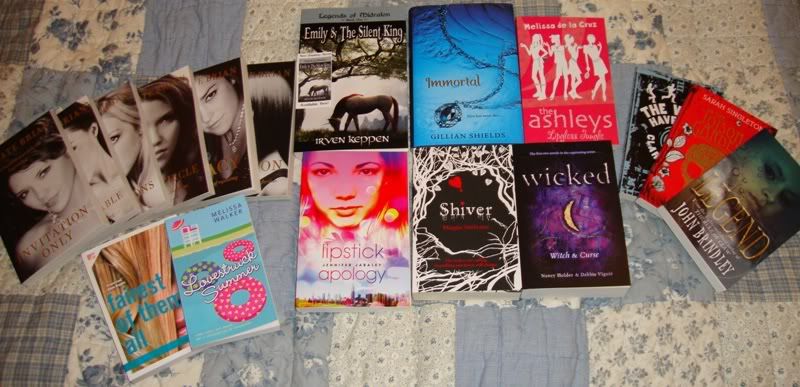 In My Mailbox idea from Kristi @ The Story Siren, and all descriptions from Amazon.
Lots of books this week... I'm looking forward to reading them all! I love it when the postman shows up with unexpected books!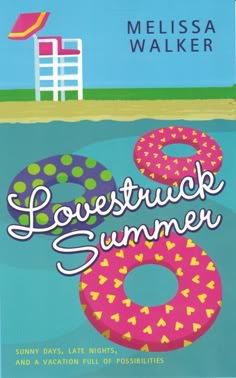 Lovestruck Summer
by Melissa Walker
(Loved it - best £4 I've spent in a long time. Review
here
.)
Austin music fest. Yay, summer in Austin! Okay, living with my sorority-brainwashed cousin, who willingly goes by "Party Penny," is not exactly what I had in mind. But the cute musicians I've met totally make up for it . . . like Sebastian. Swoon. So why can't I stop thinking about Penny's friend All-American Russ and his Texas twang??
-----

Lipstick Apology
by Jennifer Jabaley
(Looking forward to this. Lovely cover!)
Sometimes a good-bye is just the beginning… When Emily Carson's parents die in a plane crash, she's left with nothing but her mother's last words scrawled in lipstick on a tray table: "Emily, please forgive me." Now it's fall and Emily moves to New York City— where she attracts the attention of two very different boys: the cute, popular Owen, and her quirky chemistry partner, Anthony. With the help of some surprising new friends, Emily must choose between the boy who helps her forget and the one who encourages her to remember, and ultimately heal. Debut author Jennifer Jabaley has written a wonderful, feel-good romantic comedy with real emotional depth. Full of lovably wacky characters, Lipstick Apology is a heartwarming story about the true meaning of forgiveness.
-----


Fairest of Them All
by Jan Blazanin
(Sounds good!)
If life were a fairy tale, Oribella Bettencourt would have a "happily ever after" kind of future ahead of her. A Hollywood producer has come to Des Moines in search of a perfectly modern Princess Rapunzel, and Ori -- a model, dancer, and star of the beauty pageant circuit -- lands the part. And why shouldn't she? With her hardworking, self-sacrifi cing mother guiding her career, Ori is stunning, dedicated, poised...and then there's her hair. Breathtakingly lustrous blond hair that sets her apart from all the other girls at school. So what if she doesn't have any friends her age, or anyone to talk to other than her mother? She's on the verge of having everything she's ever dreamed of. But in this fairy tale, the beautiful princess wakes up to her worst nightmare -- when almost overnight, Ori begins to lose her hair....
-----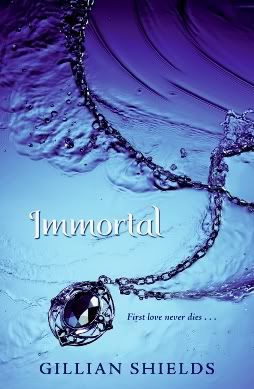 Immortal
by Gillian Shields
(Another really nice cover! I'm interested to see whether I like the book or not.)
Wyldcliffe Abbey School for Young Ladies, housed in a Gothic mansion on the bleak northern moors, is elite, expensive, and unwelcoming. When Evie Johnson is torn away from her home by the sea to become the newest scholarship student, she is more isolated than she could have dreamed. Strict teachers, snobbish students, and the oppressive atmosphere of Wyldcliffe leave Evie drowning in loneliness. Evie's only lifeline is Sebastian, a rebellious, mocking, dangerously attractive young man she meets by chance. As Evie's feelings for Sebastian grow with each secret meeting, she starts to fear that he is hiding something about his past. And she is haunted by glimpses of a strange, ghostly girl—a girl who is so eerily like Evie, she could be a sister. Evie is slowly drawn into a tangled web of past and present that she cannot control. And as the extraordinary, elemental forces of Wyldcliffe rise up like the mighty sea, Evie is faced with an astounding truth about Sebastian, and her own incredible fate.
-----
For review:

Legends of Midralon: Emily & the Silent King
by Irven Keppen
(Really enjoyed this - great YA fantasy! Review coming soon. Check out the
Midralon blog
for more info.)
From his dark tower in the far north, the Silent King sends forth his foul armies. His minions are quickly spreading throughout the lands of Midralon, bringing fear and terror. His dark magic is powerful and his armies mighty, but the Silent King has one weakness. According to an ancient prophecy, one simple word can defeat the evil tyrant, but no one knows this word and the Silent King slays any who dare to speak in his presence! None of this matters to Emily; she doesn't know how she ended up in this strange land along with her sister and two brothers. Her only desire is to get her family safely back home to their own world. There is just one problem: it appears her only way back will lead to an encounter with the sinister Silent King himself! Join Emily as she adventures in the enchanting land of Midralon!
-----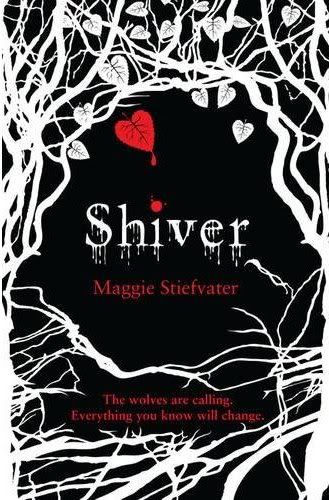 Shiver
by Maggie Stiefvater
(YAY! The UK cover is so nice, and I hope it's a huge seller over here!)
Grace is fascinated by the wolves in the woods behind her house; one yellow-eyed wolf in particular. Every winter, she watches him but every summer, he disappears. Sam leads two lives. In winter, he stays in the frozen woods, with the protection of the pack. In summer, he has a few precious months to be human . . . until the cold makes him shift back again. When Grace and Sam finally meet they realize they can't bear to be apart. But as winter nears, Sam must fight to stay human - or risk losing himself, and Grace, for ever.
-----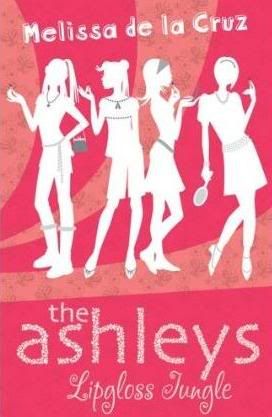 The Ashleys: Lipgloss Jungle
by Melissa de la Cruz
(Haven't read any of these, but it sounds fun!)
Lauren Page's plan was simple: get a fabulous makeover, secure herself a place in the Ashleys and then bring them down from the inside. The only problem is that now she's actually made it into the inner circle she's having some serious second thoughts...But things are about to be taken out of Lauren's hands. Sadie, Lauren's former best friend, has started a rival group and plans to destroy the Ashleys herself. Can Lauren stop Sadie or is the Ashelys reign finally over?
-----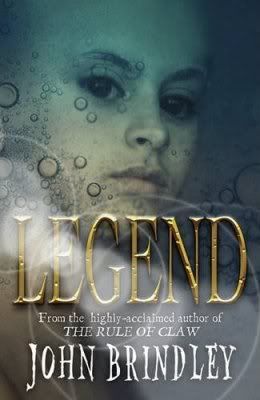 Legend
by John Brindley
(How cool does this sound?!)
Seventeen-year-old Blake used to be a star runner. Now he's a has-been. On a school trip, he has the opportunity to secure the answer to his prayers - a specially created serum that will restore him to physical supremacy. But does he steal it or not? Before he - and the reader - knows, Blake is transported into another dimension where evolution has run wild and where he is perceived as a hero by the beautiful, enigmatic mermaid creature, Chimera. He escapes and returns to his own world - our world - to face the consequences of his alleged theft. Can he prove his innocence? Not without returning to that strange new world and the even stranger but alluring Chimera ... LEGEND is a gripping and thought-provoking thriller about the blurring of physical and emotional boundaries in the quest for the truth.

-----


The Poison Garden
by Sarah Singleton
(I've heard good things about this one!)
It is the 1850's, and a young boy, Thomas, leaves his family to be apprenticed to a pharmacist, at the behest of his dead grandmother. He also inherits a magical box from her, which provides him entry into a mysterious garden. But while visiting it, he sees a ghostly vision of his grandmother, who tells him she was poisoned, and warns him that he must find the person responsible, and save her precious garden. For she was one of five members of an arcane guild, each of whom cultivated an individual garden, mastering the art of poison, perfume and medicine. The guild members jostle for power as, one by one, they are murdered...can Thomas solve the mystery, before he in turn is threatened?
-----



Private
series
: Invitation Only, Untouchable, Confessions, Inner Circle, Legacy, Ambition
by Kate Brian
(Very excited to read all these!)
The good, the bad and the beautiful...When Reed Brennan arrives at Easton Academy, she discovers that everyone is more sophisticated, more gorgeous and a whole lot wealthier than she is. She feels like an outsider, looking in ...until she meets the Billings Girls, the most beautiful, intelligent and powerful girls on campus. Reed vows to do whatever it takes to be accepted into their inner circle. But once she's in, she discovers there's more to the Girls' closets than designer clothes - they're hiding skeletons too ...and secrets which must be kept PRIVATE. Whatever the cost



-----


The Walls Have Eyes by Clare Dunkle
(Sequel to
Sky Inside
.)
Martin may have managed to get his sister, Cassie, to safety, but his nightmare is far from over. Cassie's school has been ransacked and all the children are missing, and with the totalitarian regime still in place, constantly watching, Martin is finding it hard to uncover the answers he needs. But Martin will do anything to keep Cassie safe...Accompanied by his AllDog, Chip, he starts to excavate the burned-out shell of an ancient metropolis, and discovers that the heart of the government's central power is closer to Martin than he ever could have imagined...
-----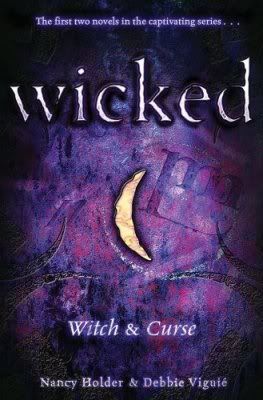 Wicked: Witch & Curse
by Nancy Holder & Debbie Viguie
(I've wanted to read this for ages - I love Nancy Holder!)
Holly Cathers' world shatters when her parents are killed in a terrible accident. Wrenched from her home in San Francisco, she is sent to Seattle to live with her relatives, Aunt Marie-Claire and her twin cousins, Amanda and Nicole. But as she struggles to settle into her new home, Holly's sorrow and grief soon gives way to bewilderment at the strange incidents going on around her. Such as how any wish she whispers to her cat seems to come true. Or the way a friend is injured after a freak attack from a vicious falcon. And then there's the undeniable, magnetic attraction to a boy Holly barely knows...Holly and her cousins, Amanda and Nicole, are about to be drawn into family feud spanning generations. And as they uncover a dark legacy of witches, secrets, and alliances, where ancient magic yields dangerous results, the girls learn of a shared destiny that is beyond their wildest imaginations...