In My Mailbox idea from Kristi @ The Story Siren, and all descriptions from Amazon.
I got a lot of books this week, and I didn't have time to do my usual pic & description for each, so I've just done that for the books I received for review. All the others are linked to Amazon pages, if you want to see what they're about :)
For review:

Syren
by Angie Sage
(I haven't read the other books in this series, though I'm hoping to catch up with them one day.)
In the fifth book of this Magykal series, Septimus and his friends find themselves on an island whose secrets are as dark and dangerous as its inhabitants. Septimus Heap returns to the House of Foryx with Spit Fyre to pick up Jenna, Nicko, Snorri, and Beetle. But the journey home does not go well and when Septimus and his friends are caught in a storm, Spit Fyre crashes into the Rokk Lighthouse. They are rescued by the lighthouse keeper who is disturbingly sinister, and who has an equally sinister cat And all the while, Septimus is trying to fight the strange pull he's feeling to the Islands and its mysterious secrets.
-----

Once a Witch
by Carolyn MacCullough
(US ARC. Sounds great!)
Tamsin Greene comes from a long line of witches, and she was supposed to be one of the most Talented among them. But Tamsin's magic never showed up. Now seventeen, Tamsin attends boarding school in Manhattan, far from her family. But when a handsome young professor mistakes her for her very Talented sister, Tamsin agrees to find a lost family heirloom for him. The search—and the stranger—will prove to be more sinister than they first appeared, ultimately sending Tamsin on a treasure hunt through time that will unlock the secret of her true identity, unearth the sins of her family, and unleash a power so vengeful that it could destroy them all.
-----


The Traitor Game
by B. R. Collins
(I'm so excited to read this, I hear it's very good. I much prefer this paperback cover, too!)
There was a folded bit of A4 paper wedged into the locker. It said MICHAEL THOMPSON. Michael slid it out, and flipped it open. It said I KNOW WHERE ARCASTER IS. That was when the bottom dropped out of everything. Michael and Francis are best friends at school, drawn together by their common secret - a complete obsession with creating, crafting, adding to and poring over their joint fantasy world, Evgard. Their friendship is put to the severest test when Michael, thinking that Francis has betrayed their world, takes the cold, deliberate decision not to help Francis when Francis is the victim of a brutal attack. Michael then has to see the consequences of his mistake, and confront his own weaknesses.
-----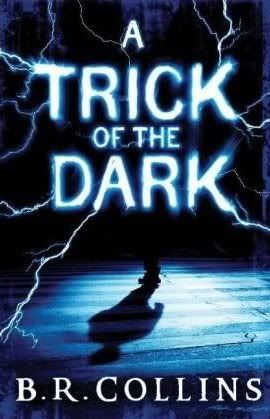 A Trick of the Dark
by B. R. Collins
(Yay! This sounds brilliant!)
Zach and his sister Annis have been uprooted by their parents from their comfortable home to a remote and half-built barn in France. Zach is being removed from his 'bad-influence' friends, their parents are trying to salvage their marriage and still remain on speaking terms whilst the bitterness of their father's affair bubbles underneath the surface. And Annis - Annis just keeps going, keeping her head down, trying to keep it together. So far so normal. And then Zach, uncommunicative and contrary as ever these days, defies everything their parents have said and makes his way to the unsafe ruined building at the edge of their new garden, and leans up against the wall. The wall bulges, totters - and suddenly collapses on top of him. Annis, horrified, sees him crumpled on the ground. Desperate, she races towards him, not daring to think anything at all. She sees him, on the ground, broken, silent, not there any more. And then, unbelievably, he moves. Zach moves. Zach, in an extraordinary and instinctive decision, has broken his bond with his own soul, the essence of himself. By doing so he has cheated death. By doing so he has also cheated life. He is unable to touch any human person again. And the essence of himself, his 'other', his soul, is chasing, chasing him, determined to rejoin what should rightfully be together. Zach is on the run, from himself, whom he can never escape, from death, but also from the life that he can never enjoy again. Perhaps only a sister can help him now.
-----


Secret Society
by Tom Dolby
(US ARC. Thanks to Vincent from
Enchanted Books
for sending this to me -- I'm going to share my review with him on his blog. I'm really looking forward to reading this, it was my WoW pick a while ago!)
An eccentric new girl. A brooding socialite. The scion of one of New York's wealthiest families. A promising filmmaker. As students at the exclusive Chadwick School, Phoebe, Lauren, Nick, and Patch already live in a world most teenagers only dream about. They didn't ask to be Society members. But when three of them receive a mysterious text message promising success and fame beyond belief, they say yes to everything. Even to the harrowing initiation ceremony in a gritty warehouse downtown, and to the ankh-shaped tattoo they're forced to get on the nape of their necks. Once they're part of the Society, things begin falling into place for them. Week after week, their ambitions are fulfilled. It's all perfect—until a body is found in Central Park with no distinguishing marks except for an ankh-shaped tattoo.
-----


The Hollow
by Jessica Verday
(Finished UK copy. This arrived with some goodies from JV's 'Get the Goods' promotion, which is very cool!)
Growing up in the town of Sleepy Hollow, the mystery and intrigue over Washington Irving's classic legend are all part of daily life for sixteen-year-old Abbey. But when her best friend, Kristen, vanishes at the bridge near Sleepy Hollow Cemetery, Abbey's world is suddenly turned upside down. While everyone is all too quick to accept that Kristen is dead, Abbey refuses to believe that she is really gone. And when Abbey meets the gorgeous, but mysterious, Caspian at Kristen's memorial she starts to feel like she has something to hold on to for the first time since Kristen's disappearance. But when Abbey finds a diary hidden in Kristen's bedroom, she begins to question everything she thought she knew about her best friend. How could Kristen have kept silent about so much? And could this secret have led to her disappearance or even her death? Hurt and angry at Kristen's betrayal, Abbey turns to Caspian for support...and uncovers a frightening truth about him that threatens both their emerging love and her sanity...

-----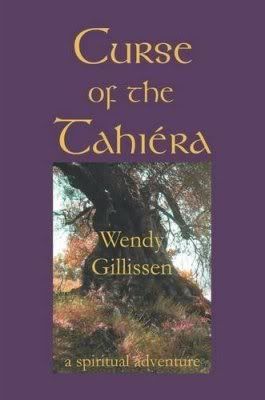 Curse of the Tahiera
by Wendy Gillissen
(Adult fantasy. I thought this sounded quite good, so I said I'd give it a go!)
A journey through haunted forests, through dreams and time. A story of love, magic and the power of forgiveness.

Rom, a young Tzanatzi outcast and Yldich, a mysterious Einache shaman are on the trail of an ancient curse.

Will they save their people from destruction?
Bought