In My Mailbox idea from Kristi @ The Story Siren, and all descriptions from Amazon.
Have I ever told you guys how much I love Amazon?! I'm sure I have, but if I haven't, well... I don't know what I'd do without it!
Intertwined
by Gena Showalter
(Looking forward to this one!)
Most sixteen-year-olds have friends. Aden Stone has four human souls living inside him: One can time-travel. One can raise the dead. One can tell the future. And one can possess another human. With no other family and a life spent in and out of institutions, Aden and the souls have become friends. But now they're causing him all kinds of trouble. Like, he'll blink and suddenly he's a younger Aden, reliving the past. One wrong move, and he'll change the future. Or he'll walk past a total stranger and know how and when she's going to die. He's so over it. All he wants is peace. And then he meets a girl who quiets the voices. Well, as long as he's near her. Why? Mary Ann Gray is his total opposite. He's a loner; she has friends. He doesn't care what anyone thinks; she tries to make everyone happy. And while he attracts the paranormal, she repels it. For her sake, he should stay away. But it's too late.... Somehow, they share an inexplicable bond of friendship. A bond about to be tested by a werewolf shape-shifter who wants Mary Ann for his own, and a vampire princess Aden can't resist. Two romances, both forbidden. Still, the four will enter a dark underworld of intrigue and danger but not everyone will come out alive....
-----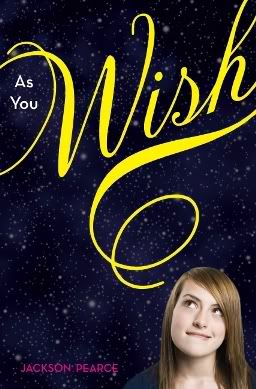 As You Wish
by Jackson Pearce
(Read it & loved it!)
Ever since Viola's boyfriend broke up with her, she has spent her days silently wishing—to have someone love her again and, more importantly, to belong again—until one day she inadvertently summons a young genie out of his world and into her own. He will remain until she makes three wishes. Jinn is anxious to return home, but Viola is terrified of wishing, afraid she will not wish for the right thing, the thing that will make her truly happy. As the two spend time together, the lines between master and servant begin to blur, and soon Jinn can't deny that he's falling for Viola. But it's only after Viola makes her first wish that she realizes she's in love with Jinn as well . . . and that if she wishes twice more, he will disappear from her life—and her world—forever. Jackson Pearce spins a magical tale about star-crossed lovers, what it means to belong . . . and how important it is to be careful what you wish for.
-----


Dark of the Moon
by Rachel Hawthorne
(Book #3 in the
Dark Guardian
series.)
I've loved him forever, but he can never be mine. Brittany is determined to prove herself to the Dark Guardians. And yet she's been keeping a devastating secret: She hasn't experienced any of the intense, early signs of change that mark a Dark Guardian's transformation. The only intense feelings she has are for Connor—and she's kept that a secret, too. But she knows she'll never truly have Connor's love if she's not a Shifter like him. At the first full moon after her birthday, her greatest fear is realized: She doesn't transform. Brittany is so desperate to become a wolf that she'll go to extremes she never thought possible . . . and put all the Dark Guardians in incredible danger.
-----





Ghost Hunter
by Michelle Paver
(The last book in the
Chronicles of Ancient Darkness
series!)
As winter approaches and Souls' Night draws near, the Eagle Owl Mage holds the clans in the grip of terror. To fulfill his destiny, Torak must seek his lair in the Mountain of Ghosts. He must defy demons and tokoroths, and find his way through the Gorge of the Hidden People. Wolf must overcome terrible grief. Renn must make an agonizing decision. And in the final battle against the Soul-Eater, Torak must face the most heart-rending choice of all.
-----

Rampant
by Diana Peterfreund
(How cool does this sound?!)
Forget everything you ever knew about unicorns . . . Real unicorns are venomous, man-eating monsters with huge fangs and razor-sharp horns. Fortunately, they've been extinct for a hundred and fifty years. Or not. Astrid had always scoffed at her eccentric mother's stories about killer unicorns. But when one of the monsters attacks her boyfriend—thereby ruining any chance of him taking her to the prom—Astrid finds herself headed to Rome to train as a unicorn hunter at the ancient cloisters the hunters have used for centuries. However, at the cloisters all is not what it seems. Outside, the unicorns wait to attack. And within, Astrid faces other, unexpected threats: from the crumbling, bone-covered walls that vibrate with a terrible power to the hidden agendas of her fellow hunters to—perhaps most dangerously of all—her growing attraction to a handsome art student . . . an attraction that could jeopardize everything.

-----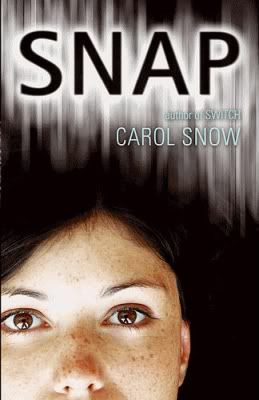 Snap
by Carol Snow
(Sounds good, but don't really like the cover.)
Madison Sabatini thought she knew who she was: an almost-sophomore with a bright future. The newest photographer on her school paper. A shopaholic with great hair and a fabulous wardrobe. Then, in a flash, everything changed. Now she's stuck in Sandyland, a gloomy beach town in the middle of nowhere, living with her parents in a crappy hotel "suite." Instead of spending the summer with her friends at home, she's hanging out with pink-haired Delilah, an artist who works in a shop called Psychic Photo, and a skater boy named Duncan who's totally not her type. Except, maybe he is . . . Determined to make the best of things, Madison throws herself into her one passion: photography. But when strange figures start appearing in her pictures—people who weren't there when she snapped the shots, people who are later reported dead—she begins to question everything about who she is . . . and who she wishes she could be.
-----


For review:

Life Swap
by Abby McDonald
(Published as
Sophomore Switch
in the US. This has a different UK cover now, but I couldn't find an image of it so had to use this one.)
Take an administrative snafu, a bad break-up, and what shall heretofore be known as The Hot-Tub Incident , and you ve got two thoroughly unprepared sophomores on a semester abroad. For American party girl Tasha, an escape to tweedy Oxford may be a chance to ditch her recent fame as a tabloid temptress, but wading Uggs-deep in feminist theory is not her idea of a break. Meanwhile, the British half of the exchange, studious control-freak Emily, nurses an aching heart amid the bikinis and beer pong of U. C. Santa Barbara. Soon desperation has the girls texting each other tips on fitting in, finding love and figuring out who they really are. With an anthropologist s eye for cultural detail and a true ear for teen-speak, exciting new novelist Abigail McDonald crafts a very funny, fast-paced, poignant look at survival, sisterhood, and the surprising ways we discover our true selves.