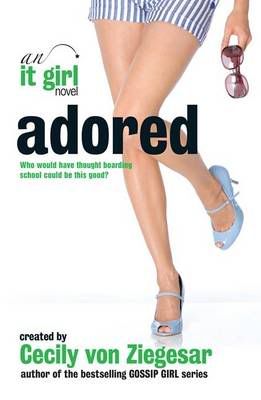 From Amazon:
The eighth book in the addictive IT GIRL. Jenny Humphrey's time at Waverly Academy has had its ups and downs - from making enemies of the most popular girl at school to stealing her room mate's boyfriend. But now everything has changed - Jenny, Tinsley, Callie and Brett have put their differences behind them to jointly rule over Waverly Academy - but how long can peace last?
This series just gets better and better. Each book brings with it new scandal, gossip and hook-ups, with a surprising amount of character development, too. In
Adored
, it's Secret Santa time at Waverly, which is hilariously changed to Secret Satan. I cracked up reading this, mostly because of the outrageous gifts the students buy for each other; everything from candles to male strippers.
New boy Sebastian finds himself surrounded by the school's female population, and it's all thanks to a predictable bet with flame-haired Brett. He's a great new addition to the cast of rich socialites, and I hope he sticks around for the next book. With Easy Walsh nowhere to be seen, Sebastian would serve as a good replacement for the Nate of the
It Girl
world.
Adored
ended on quite a cliffhanger, with the promise of a character shake-up for the ninth book in the series,
Devious
. As always, I'm counting down the days until I can get my hands on the next one, and I'm glad I only have to wait a few months. 'Addictive' is the only word I can use to describe this series, and I now definitely prefer it to
Gossip Girl
!