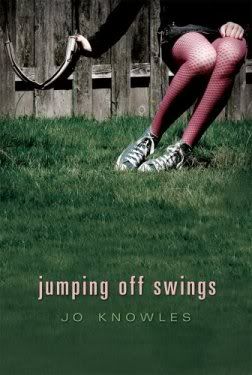 From Amazon:
Ellie remembers how the boys kissed her. How they begged for more. And when she gave it to them, she felt loved. For a while anyway. So when Josh, an eager virgin with a troubled home life, leads her from a party to the backseat of his van, Ellie follows. But their "one-time thing" is far from perfect: Ellie gets pregnant. Josh reacts with shame and heartbreak, while their confidantes, Caleb and Corinne, deal with their own complex swirl of emotions. No matter what Ellie chooses, all four teenagers will be forced to grow up a little faster as a result.
Jumping Off Swings
is told from the point of view of four teenagers, using alternating chapters. This is one of my absolute favourite narrative techniques, and is the main reason I read this book in the first place.
I really enjoyed Knowles' writing style, and her ability to make me care for every single character she presented. I sympathised with them, I understood their worries and, more than anything, I wanted them to be okay. Caleb's relationship with his mother, Liz, was a high point for me, as well as Corinne's devotion to Ellie. Strong, lasting friendships can be hard to come by, but if they can survive a life-changing event like the one Corinne and Ellie experience, it's more than likely they'll last for life.
The subject of teen pregnancy is handled well, and shines a spotlight on the ramifications of unprotected sex. For most girls, an unplanned pregnancy would be top of their list of worst nightmares, and I'm glad that it wasn't handled lightly here. Seeing it from Josh's male perspective was both interesting and unusual, and it's good to find out how a boy would react in this situation, as their feelings are often forgotten or glossed over. I'm a big fan of teenage realism, and Knowles definitely knows how to write her characters with truth and sincerity.
Although
Jumping Off Swings
has good protagonists and an emotional story, I felt like it was missing something. I enjoyed it, but it didn't have that spark, or that feeling you get when you know you've read something special. I think its importance lies within the messages it's trying to get across -- respect yourself, appreciate your friendships, and never let one bad desicion shape the rest of your life.