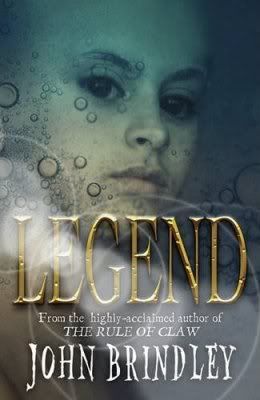 From Amazon:
Seventeen-year-old Blake used to be a star runner. Now he's a has-been. On a school trip, he has the opportunity to secure the answer to his prayers - a specially created serum that will restore him to physical supremacy. But does he steal it or not? Before he knows, Blake is transported into another dimension where evolution has run wild and where he is perceived as a hero by the beautiful, enigmatic mermaid creature, Chimera. He escapes and returns to his own world - our world - to face the consequences of his alleged theft. Can he prove his innocence?
The premise of
Legend
is a good one. Animal testing, experiments and evolution are all subjects that could make a book brilliant but, unfortunately, I don't think it worked here.
My main problem with
Legend
was that it was just
too
strange, even for me. I like different ideas and angles, but I just couldn't fully appreciate what John Brindley was trying to do. I wanted to learn more about the people behind the greencoats, the reasons for the testing, and what the scientists hoped to achieve. Without more explanation, I was left with far too many questions, none of which were explored enough.
I was never bored with the book; I got through it quite quickly, but I can't say I enjoyed it as much as I wanted to. I didn't connect with any of the characters, and none of them really held my interest. The writing was okay, and the use of myths and legends was a clever idea, but by not being fully immersed in Blake's story, I didn't get the full impact of his decisions, or his loyalty to Chimera. Had the characters been more believeable and engaging, it would have made a big difference to the overall tone of the book.
I personally wasn't too keen on
Legend
, but I'm sure it will appeal to a lot of readers out there. If you like your stories mixed with the strange and weird, then this could be right up your street. I'll definitely read future books by this author, as his fantastic imagination is certainly something to remember.