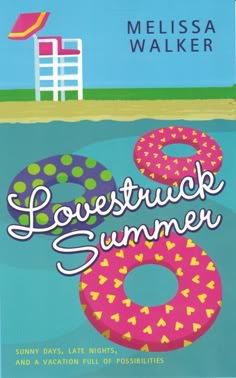 From Amazon:
Austin music fest. Yay, summer in Austin! Okay, living with my sorority-brainwashed cousin, who willingly goes by "Party Penny," is not exactly what I had in mind. But the cute musicians I've met totally make up for it . . . like Sebastian. Swoon. So why can't I stop thinking about Penny's friend All-American Russ and his Texas twang??
Lovestruck Summer
is my first foray into Melissa Walker land, and I'm happy to say that I'll be returning very, very soon. This book is a perfect summer read, and is one that left me grinning like a goon after (sadly) turning the final page.
Music plays a huge part in Quinn's life, and she makes sense of things through songs and lyrics. Her intensity and zest spurns the interest of two all-American music-loving hotties, and she then faces the hard decision of figuring out just which one it is she wants, and needs, to be with. Quinn is a breath of fresh air, and is a character I would love to see more of. She's a no-nonsense kind of girl, with an insane love for music and that feeling you get when you hear a CD you know will change your life. Her will-they won't-they relationship with cowboy jock Russ literally made me swoon, and her whole story was a realistic portrayal of a summer away from home.
A brilliant main character, music, yummy boys and a charming Texas backdrop make Walker's latest offering a book that should have a place on every YA reader's shelf. If it doesn't succeed in making you feel all warm and fuzzy inside, it'll at least cheer you up on a rainy winter day.