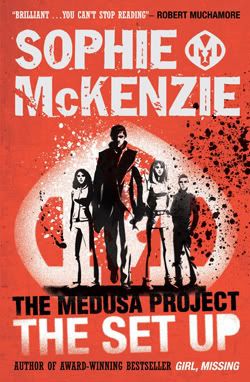 From Amazon:
Fourteen years ago, scientist William Fox implanted four babies with the Medusa gene - a gene for psychic abilities. But Fox died and the babies were hidden away for years. Now the children are teenagers - and unaware that their psychic powers are about to kick in. Cocky, charismatic Nico thinks his emerging telekinetic abilities will bring him money, power and the girl of his dreams. He's about to find out just how wrong he is...
The Set-Up
is a good introduction to Sophie McKenzie's world of the Medusa Project: a project that left four teenagers with psychic abilities. Set in several UK locations, it alternates between action and adventure, the supernatural and teen drama.
I didn't like the characters as much as I wanted to, and felt that a few of them were too forced. Everything was figured out and learnt too quickly, and accepted far too easily. If I found out I had a psychic power, I'd be shocked, worried, and scared, and certainly not able to comprehend it all in the space of one chapter. Saying that, choosing to have the characters deal with it this way eliminated the need for any unnecessary changes in plot speed, which kept the story moving along at McKenzie's expected pace.
I'm looking forward to the next book, which will see a change in narrators. Nico had his turn in
The Set-Up
, and Ketty will be next in
The Hostage
. I think this is a great way for the reader to get to know each character and their powers, and different POVs are always very welcome. If you liked McKenzie's previous novels, add this one to your wishlists -- it's well worth a read.