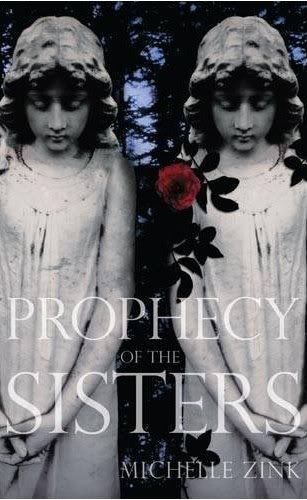 From Amazon:
This is the story of sixteen-year-old Lia Milthorpe's quest to discover her role and her twin sister's in a powerful prophecy that has affected twin sisters for generations. But nothing can prepare her for what she discovers - about herself, about her family, and about the danger that goes from haunting her dreams to becoming her reality.
Sometimes it's great to read a slower paced novel that allows you time to take in the beautiful writing and descriptions; and that's exactly what
Prophecy of the Sisters
offers: an alluring writing style and an intricately crafted story of prophecies and secrets.
Twin sisters Lia and Alice couldn't be more different, with both sisters on polar opposite sides of good and evil. Lia is the sister with more of a conscience, a deep love for her family and a sense that something bigger is mapping out their lives. Although Alice is evil and manipulative, I still couldn't hate her, because of her unbreakable bond with Lia. Their relationship is both unusual and unnerving, and takes a while to get used to, as they weren't as close as I thought they would be. Their younger brother Henry was one of my favourite characters - he was caring and thoughtful, and I wanted to see more of him throughout the book.
The prophecy itself is an amazing idea, and I haven't read anything like it before. The way everything is revealed is intriguing and clever, and I never once guessed what was coming next. Michelle Zink has seriously done her homework here, and has created a story grounded in old biblical references and legends.
Prophecy of the Sisters
is a fantastic debut novel, full of eerie locations and haunting images. The writing is atmospheric and enchanting, with the story unfolding at a plausible speed. I'm really glad that Lia and Alice will be back for two more books, and I'm eagerly awaiting the next one!