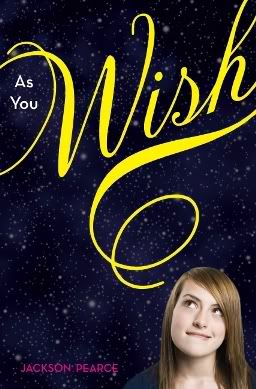 From Amazon:
Ever since Viola's boyfriend broke up with her, she has spent her days silently wishing—to have someone love her again and, more importantly, to belong again—until one day she inadvertently summons a young genie out of his world and into her own. He will remain until she makes three wishes. Jinn is anxious to return home, but Viola is terrified of wishing, afraid she will not wish for the right thing, the thing that will make her truly happy. As the two spend time together, the lines between master and servant begin to blur, and soon Jinn can't deny that he's falling for Viola. But it's only after Viola makes her first wish that she realizes she's in love with Jinn as well . . . and that if she wishes twice more, he will disappear from her life—and her world—forever.
As You Wish
is a really fun, enjoyable book that I'm sure a lot of people are going to love. It's full of brilliant down to earth characters, sweet romance and something new in the supernatural world: genies.
Viola is about as genuine as characters get, with hang-ups and fears that the majority of the population can easily relate to. We all know that breakups are tough, but when the boy in question turns out to be gay, that opens a whole other door to heartache and misery. Luckily, super swoony Jinn is on hand to take Viola's mind off things, and to help her in her seemingly neverending healing process.
Their romantic relationship develops quickly but realistically, and is met with much trepidation on behalf of both characters. They certainly suit each other, and I'm glad their whirlwind attraction wasn't unbelievable or overly clichéd. I thought Viola had one flaw, and that was her constant fixation with belonging and fitting in. I got it the first five times she said it, and didn't really need it repeating several times a chapter. Still, it's not a major complaint, just more of an irritation on my behalf.
I've never read a book that features genies before, which is one of the reasons why I was so excited to read
As You Wish
. It's always good to have something different, and Jackson Pearce pulls it off very well; so well you wouldn't guess it was a debut novel. We could all learn from her messages about acceptance and self-esteem and, of course, who doesn't want an attractive genie available at the drop of a hat? Not me, that's for sure: send him in so I can wish for a sequel!