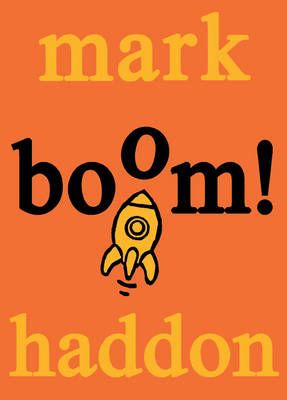 From Amazon:
From the moment that Jim and his best friend Charlie bug the staff room and overhear two of their teachers speaking to each other in a secret language, they know there's an adventure on its way. But what does 'spudvetch' mean, and why do Mr Kidd's eyes flicker with fluorescent blue light when Charlie says it to him? Perhaps Kidd and Pearce are bank robbers talking in code. Perhaps they're spies. Perhaps they're aliens. Whatever they are, Jimbo and Charlie are determined to find out.
I went into
Boom!
without knowing anything about it (I just liked the orange cover, it's very eye-catching), and was pleasantly surprised by the fun story I ended up reading. The synopsis on the inside cover doesn't give anything away, and is delightfully cryptic. I'm glad I didn't know what to expect beforehand, as I'm sure the plot ambiguity added to my overall enjoyment of the book.
Mark Haddon has a great way of writing, and his sense of humour has definitely made me want to read more of his books. Several lines in
Boom!
had me laughing like a lunatic, and his characters all had fantastic personalities and quirks. From crazy mothers to drifting dads, there's a character or two that everyone will be able to recognise from their own lives.
The story moved at a fast-paced speed, and before I knew it, I had unfortunately reached the end. Everything was resolved, all was well, and Jimbo and Charlie had gone on their merry way.
Boom!
is an adventure story with a sprinkling of sci-fi, and is an amusing, lively tale for all ages. As you can see, I don't want to give any more of the plot away, so that you can read it like I did: with no expectations and only a cool cover to draw you in.