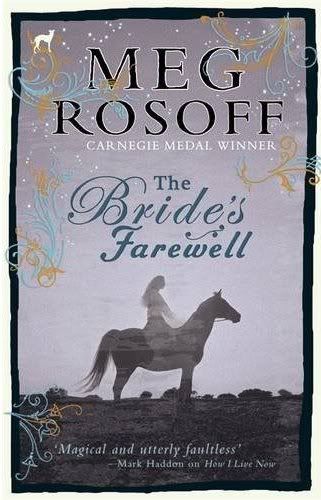 From Amazon:
On the morning of her wedding, Pell Ridley creeps out of bed in the dark, kisses her sisters goodbye and flees - determined to escape a future that offers nothing but hard work and sorrow. She takes the only thing that truly belongs to her: Jack, a white horse. The road ahead is rich with longing, silence and secrets, and each encounter leads her closer to the untold story of her past. Then Pell meets a hunter, infuriating, mysterious and cold. Will he help her to find what she seeks?
It's been a few days since I finished
The Bride's Farewell
, and I'm still not entirely sure what I thought of it. While I liked the writing and the general tone of the book, I found it too slow and had trouble fully immersing myself in the story.
Pell was one of the highlights for me; she was a strong female character who knew what she wanted and went after it. Whether she ultimately made the right decision is a point that can be argued, as her running away upset the balance of her family and friends. Her brother, Bean, was also a character I enjoyed getting to know, and I just wish he could have had a bigger role in Pell's story.
I've heard many fantastic things about Rosoff's writing and imagination, and I have to say that I was disappointed with both this time around. Her writing didn't grab me, and I thought that her ideas for this particular novel were never fully realised. It was almost like the book was on a long journey that suddenly ended, without a conclusion or a point being reached, which was a shame as I think so much more could have been done with the story.
I'm not sure if I'll read any more books by this author, though I may give her another chance. It wouldn't be fair to judge her work from one book, and it was just unfortunate that this one wasn't for me.