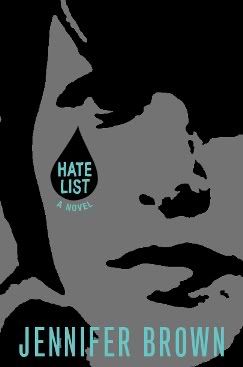 From Amazon:
Five months ago, Valerie Leftman's boyfriend, Nick, opened fire on their school cafeteria. Shot trying to stop him, Valerie inadvertently saved the life of a classmate, but was implicated in the shootings because of the list she helped create. The list he used to pick his targets. Now, after a summer of seclusion, Val is forced to confront her guilt as she returns to school to complete her senior year. Haunted by the memory of the boyfriend she still loves and navigating rocky relationships with her family, former friends and the girl whose life she saved, Val must come to grips with the tragedy that took place and her role in it, in order to make amends and move on with her life.
Every now and then, a book comes along that completely and utterly floors you.
Hate List
is one of those books.
The emotions swirling through Jennifer Brown's pages are complicated and indescribable and, like the characters, leave a path of destruction in their wake. There's no easy way to navigate Val's life with her, and while she struggles to overcome grief, guilt and an overbearing darkness, so do you. There's no fun and games to be had, no light, fluffy romance to distract from the tragedy at hand: it's all real, no-expense-spared desolation.
School shootings are not an uncommon occurence these days, and Brown has done a fantastic job of exploring the aftermath of such an event. To lose someone you love is hard enough, but to lose them to someone else's hand is probably the worst thing that could ever happen. To know there was nothing you could do, no way to stop it, no way to know... it's unthinkable. And to be left behind to deal with the fallout, well, how do you even contemplate moving on? All these angles are explored in
Hate List
, and no stone is left unturned. Through the use of newspaper reports, we get to know the students that were murdered or injured, and each one of them is remembered in their own way. The narrative jumps from the day of the shooting to the present, and each chapter gets harder to read as you get closer to the shooting itself. Although you know what's coming, it still isn't any easier to read; in fact, it's nothing short of horrifying.
Seeing everything through Val's eyes is a rollercoaster of twists and turns, and her inability to forgive herself echoes throughout every decision she makes. Whether she was indeed the catalyst for Nick opening fire on an unsuspecting school is something we'll never know, but, with the help of unlikely friends and a loyal psychiatrist, she realises that it can't hold her back forever. Everyone deserves a second chance, and that's exactly what Val sets out to earn.
Hate List
is an amazing debut novel, and is one that I think should be required reading on every school curriculum. It'll teach you about right, wrong, forgiveness, self-worth, and the importance of moving on. It's powerful, powerful stuff.