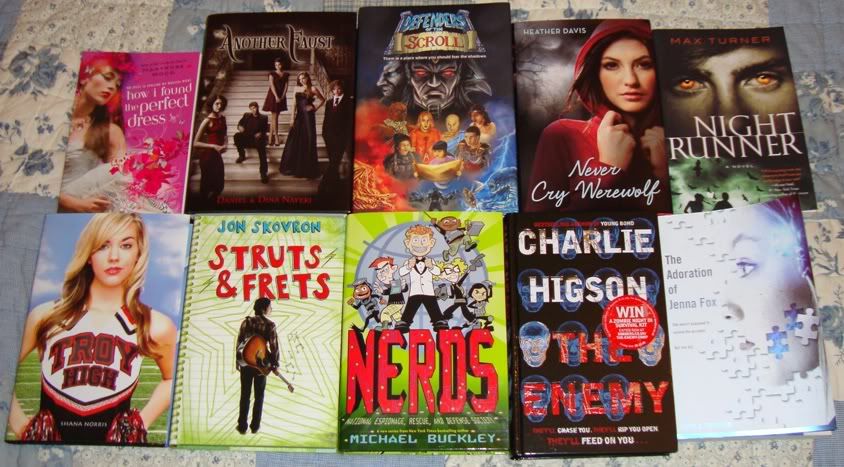 In My Mailbox idea from Kristi @ The Story Siren, and all descriptions from Amazon.
I can't wait to read all these. I'm especially excited about the books I received for review - they all look amazing!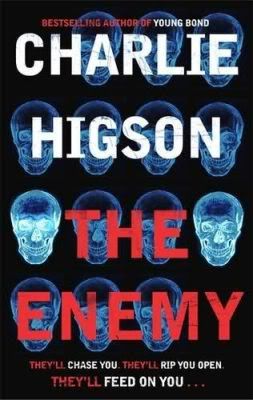 The Enemy
by Charlie Higson
(I've heard really good things about this, and the actual book is lovely!)
They'll chase you. They'll rip you open. They'll feed on you...When the sickness came, every parent, policeman, politician - every adult - fell ill. The lucky ones died. The others are crazed, confused and hungry. Only children under fourteen remain, and they're fighting to survive. Now there are rumours of a safe place to hide. And so a gang of children begin their quest across London, where all through the city - down alleyways, in deserted houses, underground - the grown-ups lie in wait. But can they make it there - alive?
-----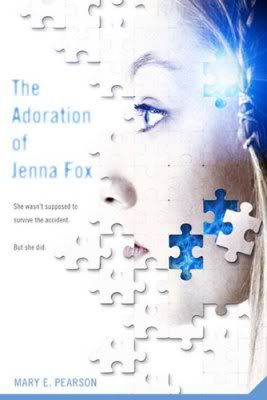 The Adoration of Jenna Fox
by Mary E. Pearson
(Another book cover to add to my favourites list!)
Seventeen-year-old Jenna Fox has just awoken from a year-long coma—so she's been told—and she is still recovering from the terrible accident that caused it. But what happened before that? She's been given home movies chronicling her entire life, which spark memories to surface. But are the memories really hers? And why won't anyone in her family talk about the accident? Jenna is becoming more curious. But she is also afraid of what she might find out if she ever gets up the courage to ask her questions. What happened to Jenna Fox? And who is she really?
-----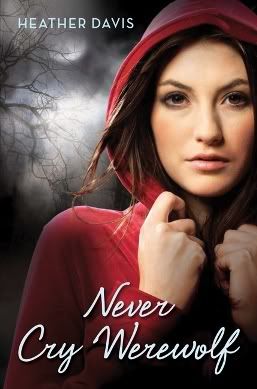 Never Cry Werewolf
by Heather Davis
(Sounds fun!)
Moonlight can totally change your life. And it all starts so simply. You. Him. The moon. You're toast. Okay, so maybe Shelby has made a few mistakes with boys lately (how was she supposed to know Wes had "borrowed" that Porsche?). But her stepmother
totally
overreacts when she catches Shelby in a post-curfew kiss with a hot senior: Suddenly Shelby's summer plans are on the shelf, and she's being packed off to brat camp. It's good-bye, prom dress; hello, hiking boots. Things start looking up, though, when Shelby meets fellow camper (and son of a rock star) Austin Bridges III. But soon she realizes there's more to Austin than crush material—his family has a dark secret, and he wants Shelby's help guarding it. Shelby knows that she
really
shouldn't be getting tangled up with another bad boy . . . but who is she to turn her back on a guy in need, especially such a good-looking one? One thing's for sure: That pesky full moon is about to get her into trouble all over again.
-----

Night Runner
by Max Turner
(Vampires. Enough said.)
For Zack Thomson, living in the Nicholls Ward isn't so bad. After his parents died, he developed strange and severe allergies, and the mental institution was the only place where he could be properly looked after. As strange as it was, it was home. He could watch as much television as he wanted; his best friend Charlie visited him often enough; and Nurse Ophelia--the prettiest no-nonsense nurse ever--sometimes took him bowling. Of course, that didn't mean he had it easy. His allergies restricted his diet to strawberry smoothies, and being the only kid at the hospital could get lonely. But it never once crossed Zack's mind to leave...until the night someone crashed through the front doors and told him to run. Now he's on a race for answers--about his past, his parents, and his strange sickness--even as every step takes him closer to the darkest of truths.
-----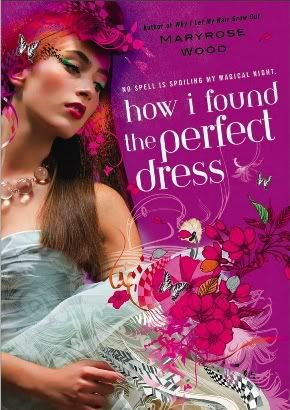 How I Found the Perfect Dress
by Maryrose Wood
(I love these covers!)
On a bike tour of Ireland last summer, Morgan Rawlinson fell for Colin, the hunky guide, and entered a portal that turned her into the goddess Morganne. Now she's back to her painfully normal life and her relationship with Colin has fizzled to the occasional e-mail…until he writes saying he's coming to Connecticut—just in time for the prom. But when he arrives, he's exhausted. It seems that when Morgan crossed the portal as Morganne, a spell was cast on Colin. In his dreams he's being forced to dance 'til dawn with the faeries, who want to boogie with him for eternity. Somehow she has to break the spell on her date, help plan the prom, and find the perfect dress. Oh, what a night…
-----

Another Faust
by Daniel & Dina Nayeri
(This one sounds great!)
One night, in cities all across Europe, five children vanish — only to appear, years later, at an exclusive New York party with a strange and elegant governess. Rumor and mystery follow the Faust teenagers to the city's most prestigious high school, where they soar to suspicious heights with the help of their benefactor's extraordinary "gifts." But as the students claw their way up — reading minds, erasing scenes, stopping time, stealing power, seducing with artificial beauty — they start to suffer the sideeffects of their own addictions. And as they make further deals with the devil, they uncover secrets more shocking than their most unforgivable sins. At once chilling and wickedly satirical, this contemporary reimagining of the Faustian bargain is a compelling tale of ambition, consequences, and ultimate redemption.
-----


Defenders of the Scroll
by Shiraz
(Self-published, but looks & sounds brilliant!)
A teenage boy. A dark wizard. A mystic scroll. And the fate of a world hangs in the balance. . . When Alex "the Axeman" Logan is pulled from his world to help young princess Dara save her kingdom from the Shadow Lord, he thinks there has been a mistake. He's a teen guitar player close to failing 11th grade, not some defender of the realm. All he has are some school books, his wits, and his love of fantasy movies. Overnight his life is history. Alex must confront the Shadow Lord and his minions when he is thrust into a land that has changed from a magical paradise to a barren, hopeless, helpless realm invaded by a dark army. But Alex is not alone. He has the help of Dara, a magic scroll, and a band of unlikely companions drawn from his own history books: a hardened Roman Legionnaire, a swift Japanese Samurai, a mighty African Warrior, a fiery Amazon Archer, and a spirited Shaolin Monk. Can Alex become more than he believes and lead his small band of Defenders to the Hall of Shadows, the birthplace of the Shadow Lord? The fate of the realm and everyone in it rests on him.
-----

Troy High
by Shana Norris
(Very excited to read this!)
Homer's
Iliad
, the classic tale of love and revenge, is shrewdly retold for teens in
Troy High.
Narrated by Cassie, a shy outsider who fears that an epic high school rivalry is about to go up in flames, the story follows the Trojans and Spartans as they declare war on the football field. After the beautiful Elena—who used to be the captain of the Spartan cheerleaders—transfers to Troy High and falls madly in love with Cassie's brother Perry, the Spartans vow that the annual homecoming game will never be forgotten. The Trojans and Spartans pull wicked pranks on each other as homecoming approaches. And the Spartans' wildcard football star, Ackley, promises to take down the Trojans' offensive line. But the stakes are raised when Cassie is forced to choose between the boy she loves (a Spartan) and loyalty to her family and school.

-----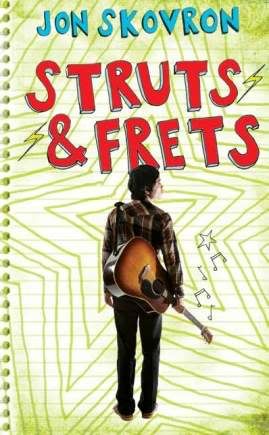 Struts & Frets
by Jon Skovron
(This sounds so good!)
Told in a voice that's honest, urgent, and hilarious,
Struts & Frets
will resonate not only with teenage musicians but with anyone who ever sat up all night listening to a favorite album, wondering if they'd ever find their place in the world. Music is in Sammy's blood. His grandfather was a jazz musician, and Sammy's indie rock band could be huge one day—if they don't self-destruct first. Winning the upcoming Battle of the Bands would justify all the band's compromises and reassure Sammy that his life's dream could become a reality. But practices are hard to schedule when Sammy's grandfather is sick and getting worse, his mother is too busy to help either of them, and his best friend may want to be his girlfriend. When everything in Sammy's life seems to be headed for major catastrophe, will his music be enough to keep him together?
-----




NERDS: National Espionage, Rescue, and Defense Society
by Michael Buckley
(Sounds and looks hilarious!)
Combining all the excitement of international espionage and all the awkwardness of elementary school,
NERDS
, featuring a group of unpopular students who run a spy network from inside their school, hits the mark. With the help of cutting-edge science, their nerdy qualities are enhanced and transformed into incredible abilities! They battle the Hyena, a former junior beauty pageant contestant turned assassin, and an array of James Bond–style villains, each with an evil plan more diabolical and more ridiculous than the last.
-----

That's all for me this week, hope you guys all got some lovely books!