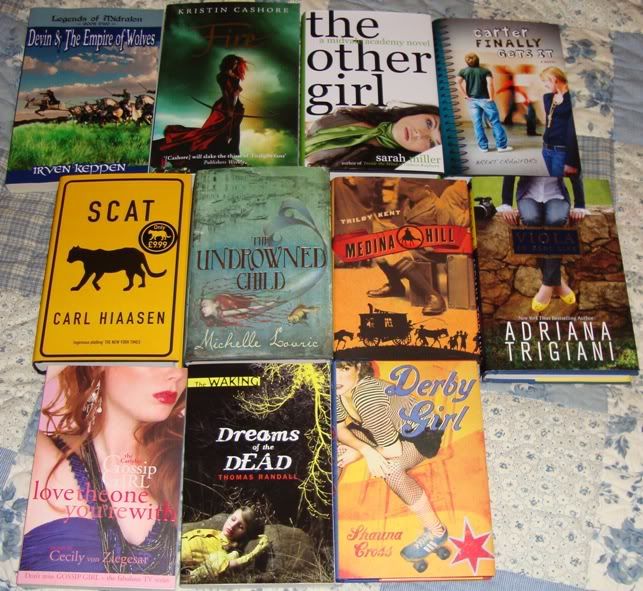 In My Mailbox idea from Kristi @ The Story Siren, and all descriptions from Amazon.
Due to postal strikes, I didn't think I'd get much in the mail this week, but luckily most of it arrived on Saturday. Yay!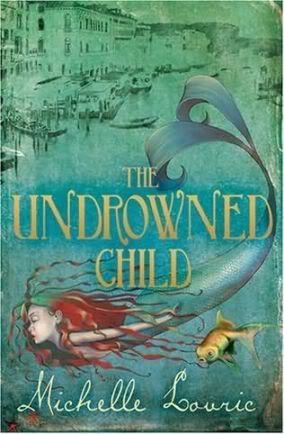 The Undrowned Child
by Michelle Lovric
(This sounds very unusual, and it has a lovely cover!)
It's the beginning of the 20th century; the age of scientific progress. But for Venice the future looks bleak. A conference of scientists assembles to address the problems, among whose delegates are the parents of eleven-year-old Teodora. Within days of her arrival, she is subsumed into the secret life of Venice: a world in which salty-tongued mermaids run subversive printing presses, ghosts good and bad patrol the streets and librarians turn fluidly into cats. A battle against forces determined to destroy the city once and for all quickly ensues. Only Teo, the undrowned child who survived a tragic accident as a baby, can go 'between-the-linings' to subvert evil and restore order.
-----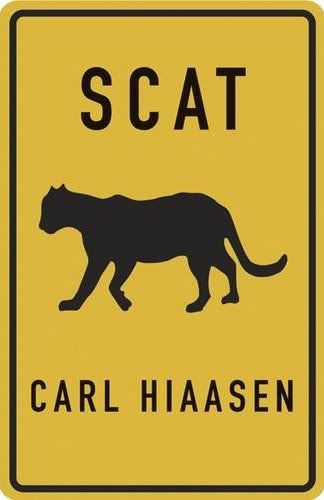 Scat
by Carl Hiaasen
(Sounds funny! The hardback is so nice and bright, it looks great on my book pile).
When Mrs Starch, the most feared biology teacher in Florida, goes missing during a school trip to the Black Vine Swamp, her class is secretly relieved. The school principal tries to cover it up as a 'family emergency', but Nick and Marta just aren't convinced. They think it's much more likely to have something to do with Smoke, the local troublemaker - whose run-ins with Mrs Starch are infamous - and decide to do some investigating of their own. But there's more going on in Black Vine Swamp than either one of them could guess. And Nick and Marta must see off an eccentric eco-avenger, a stuffed rat named Chelsea, a crooked oil prospector, a singing substitute teacher, and an angry Florida panther before they really begin to see the big picture.
-----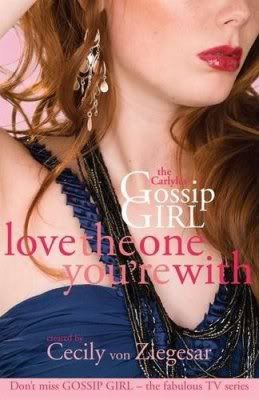 Gossip Girl the Carlyles: Love the One You're With
by Cecily von Ziegesar
(Everyone knows I love these books, so YAY!)
The fourth book in the deliciously naughty GOSSIP GIRL: THE CARLYLES series

Serena, Nate and Blair kept us all entertained with their less than pure behaviour but Gossip Girl was the true star of the show and now she's back with all the juicy secrets about the scandalous behaviour of Manhattan new comers Owen, Avery and Baby Carlyle. The triplets may be from small town Nantucket but they're taking full advantage of the opportunities the big city has to offer...
-----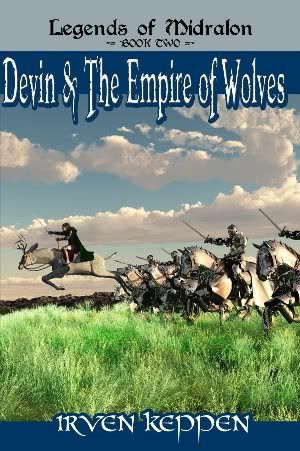 Legends of Midralon: Devin & the Empire of Wolves
by Irven Keppen
(Can't wait to read this!)
The legend of every famous general begins with one split-second decision made in the heat of battle! For a timid young boy named Devin, that decision was to use his enchanted horn and challenge the powerful Warlock Meldrim, forcing the warlock to pursue him away from the battle of Freegate. Devin's bold move saved the day and allowed the outnumbered armies fighting the Silent King to continue their assault on his dark tower. Now, Devin is fleeing for his life, pursued by the vengeful warlock and legions of ferocious Nooben warriors. His flight will take him across the war torn lands of Midralon, through the dreaded Darkwood Forest and across the mysterious Plains of Nasich. On his journey, he must evade the murderous Meldrim and other deadly perils, including a fearsome horde of creatures known as the Swarm! To overcome these obstacles and survive, Devin must discover the inner strength to become the general everyone believes him to be!
-----

Medina Hill
by Trilby Kent
(This arrived for November's blog tour, which I'm really looking forward to).
In the grimy London of 1935, eleven-year-old Dominic Walker has lost his voice. His mother is sick and his father's unemployed. Rescue comes in the form of his Uncle Roo, who arrives to take him and his young sister, Marlo, to Cornwall. There, in a boarding house populated by eccentric residents, Marlo, who keeps a death grip on her copy of
The New Art of Cooking
, and Dominic, armed with
Incredible Adventures for Boys: Colonel Lawrence and the Revolt in the Desert
, find a way of life unlike any they have known. Dominic's passion for Lawrence of Arabia is tested when he finds himself embroiled in a village uprising against a band of travelers who face expulsion. In defending the vulnerable, Dominic learns what it truly means to have a voice.
Bought

+
Hope everyone had a great week!