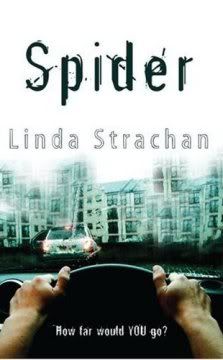 From Amazon:
A hard-hitting, provocative novel about teenage love, loyalty and fast cars.
Spider is on his last warning. If he's caught joyriding again he'll be sent down, no questions asked. He's trying to stick to the straight and narrow but his girlfriend Deanna and mate Andy reckon he should risk one last run.

Spider
is a short book with an important message: don't take life for granted, because you never know how quickly it can end. Most of the book takes place on the night of a car crash, a crash caused by delinquent Spider and his affinity for stealing cars.

Spider and his friends Deanna and Andy are lucky to survive, and their near-death experience teaches each of them the value of love and friendship. It also proves that a life of crime isn't the right path to choose and, given the chance, can be avoided. I thought this was a fantastic way to show teenagers that things can always be changed, and that nothing is set in stone. Although the page count wasn't huge, I felt like I got to know the characters well enough, and sympathised with Spider's circumstance. It can't be easy to watch your life slowly spin out of control, and know that there's no-one readily available to help you get back on the right track. This situation and its solution is what Linda Strachan highlights, and she does so in a very positive way.

Spider is a gritty, realistic look at life as a teenager, and all the ramifications that inevitably accompany a bad decision. If you're a fan of Kevin Brooks, Cathy MacPhail or Gillian Philip, give this one a go -- it's definitely worth a quick read.