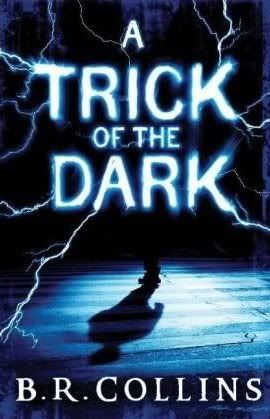 From Amazon:
Zach and his sister Annis have been uprooted by their parents from their comfortable home to a remote and half-built barn in France. So far so normal. And then Zachdefies everything their parents have said and makes his way to the unsafe ruined building at the edge of their new garden, and leans up against the wall. The wall bulges, totters - and suddenly collapses on top of him. Zach, in an extraordinary and instinctive decision, has broken his bond with his own soul, the essence of himself. By doing so he has cheated death. By doing so, he has also cheated life.
B. R. Collins' second book is an unusual supernatural thriller that should sit well with fans of all things paranormal. It moved at a fast speed, and kept me guessing until the end -- an end which was shocking yet inevitable.
The idea of a shadow detaching itself from the soul is a chilling thought, and is an entirely new concept to me. I don't know how Collins came up with that, but it succeeded in making the book creepy and chilling. The way the shadow almost haunted Zach was something I'd expect to see in a horror film, and I won't lie: I checked around my very dark room a few times to make sure nothing was lurking by the window.
Annis and Zach had a pretty rocky relationship with their parents, which included zero respect on their side of things. If there was anything I didn't like about the characters, it would definitely be their attitude towards their parents. I didn't think their mum and dad deserved it, and it often made Zach and Annis look like spoilt, ungrateful brats. For that reason, I didn't like Zach much, and I changed my mind about Annis as I got further into the book. They did redeem themselves at the end, but it was perhaps too late for me to change my opinion of them.
I enjoyed the unique story, the stylish writing and the use of Zach's notebook entries to tell his side of events. It was compelling and exciting, and is the kind of novel that would make a tense movie thriller. A detachment from the main characters was all that hampered my reading experience, though the fantastic plot more than made up for that.