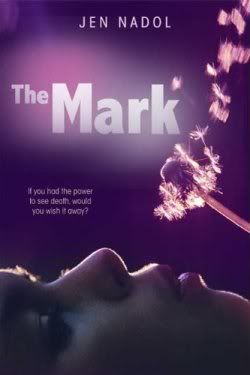 Waiting on Wednesday idea from Jill at Breaking the Spine.
-----
The Mark
by Jen Nadol
* Published by:
Bloomsbury
* Format: Hardcover
* Release Date:
January 19th, 2010 (US)
* On Amazon:

here
.


Sixteen-year-old Cassandra Renfield has always seen the mark—a light glow reminiscent of candlelight. The only time she pointed it out taught her she shouldn't do it again. For years, the mark has followed Cassie, its rare appearances odd, but insignificant. Until the day she watches a man die. As she revisits each occurrence of the mark, Cassie realizes she can see a person's imminent death. Not how or where, only when: today. Now armed with a slight understanding of the mark, Cassie begins to search for it. Even as she hides her secret, Cassie mines her philosophy class, her memories, and even her new boyfriend for answers about the faint glowing mark. But many questions remain. How does it work? Why her? And finally, the most important of all: If you know today is someone's last, should you tell them?
I think this sounds brilliant, and I love the cover. It must be such a hard decision to decide whether or not to tell someone that their life is about to end, and I can't wait to see how Cassie deals with it.