I'm very excited to have an interview with Ian Beck, as I loved his new book,
Pastworld
(and the book cover - it's amazing!). Thanks for taking the time to answer my questions, Ian!
----------
What made you decide to write for a teenage audience?
I had already written some things for adult readers, indeed had been doing so since I first moved to London in 1969, stories like The Summer House, which was published as a limited edition book in 2006, and was later made into a short film. This gave me the confidence to try writing a darker toned story for older readers, following on from my first middle range fictions with the Tom Trueheart books. These had helped me in learning to structure a bigger story and also I think discovering I had the stamina to actually finish something longer.
How did the idea for Pastworld come about?
There were two germs or seeds of the idea. One was an image, which rose unbidden into my head one day. It was of a young beggar / thief in Victorian London running through the fog, he stopped and hid in a doorway and pulled from his ragged pocket... a mobile phone, I had no idea why or where this had come from. The other was during a visit to a film set which had been designed by Assheton Gorton, who is a friend. It was on a big stage at Shepperton Studios and intended for a commercial. It was an outdoor scene, of a field covered in snow and ice. There were real trees and a grey winter sky on a huge cyclorama backdrop. The ice underfoot was made of wax and the whole thing was magical. I was standing in the middle of that fake landscape when a trained owl flew across it and I felt I was in a real outdoor place, even though I knew I wasn't, my senses were totally fooled.
What inspired the brilliant Victorian theme park concept?
I grew up in the immediate post-war era. Most of the shops, the street furniture, the public transport even was still very much a leftover of the late Victorian age. Back porch green and deep maroon reds, are the colours I associate with my childhood, I even had a gaslight in my bedroom which gave off a soft greenish light. I can still hear the popping sound it made as it was lit. I played with old lead painted toy soldiers, and our rented house was still papered with heavy Victorian wallpapers, and our front door was paint- grained in imitation of wood. I suppose part of me still has a hunger for those times, those smells and textures, which are still very real to me. My childhood reading fed into it all too. I was an avid reader and library goer. I loved the Sherlock Holmes stories and also more importantly the stories and novels of H G Wells, especially The Time Machine. The idea that you could travel in time obsessed me, Wells' hero went forwards, I, of course, would push the handle backwards. There are places already which give the visitor a feel of the re-created past, The Beamish museum for instance in County Durham where everything is authentic except the visitors. I notice that they are offering special Christmas experiences just like Mr Buckland's Pastworld. I would of course make the visitors where authentic clothes.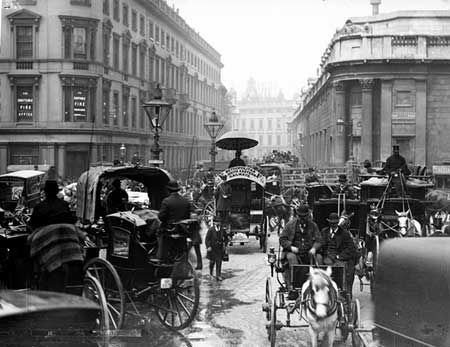 Did you have to do a lot of research on Victorian London, to ensure everything was correct and authentic?
Not really, any mistakes I can blame on The Buckland Corporation they are the ones who get things slightly wrong. As I said before my obsession with Victorian London is a long standing thing, I know a lot of useless stuff anyway, besides most of the legacy of Victorian London is still with us, is still there, despite grievous losses like the Euston Arch (happily there is a now plan to return it just as I have done in Pastworld).
I loved the constant guessing throughout the book. Did you always intend to keep the reader in the dark until the final stages of the book?
I remember hearing a writer give some advice to an audience of older children about writing, she said her rules were, to; 'make the reader laugh, make them cry, and make them wait, of which the most important was 'make them wait', I very much took that on board. I wrote and rewrote the book over a four year period, during which certain things became clear to me about the characters, and as I went back through the book several times I would lay clues, even from the very first pages as to certain things, it is all there to be found.
Did you have any input when it came to designing the cover?
As an illustrator for over 40 years and the designer of many book jackets and covers I was relieved to think for once that I would not have to design the cover for this one. I was sent a rough version which I made comments on like, 'more fog please', and I was very pleased indeed with the finished result when it turned up. My son Laurence designed the little inserted graphics such as welcome posters and the like which turn up in the book.
Will you be revisting Pastworld in the future?
Not immediately, I have other books to complete at the moment. I have however thought of a way of continuing the story. Should Pastworld find readers then perhaps later I may tackle the sequel but not I should think for a year or two.
If you had the chance to visit Pastworld, would you? I'm not sure I would...
I would be the first in the queue.
----------
Related links:
Pastworld
site:
Pastworld.com

UK publisher's site:
Bloomsbury
My review:
Pastworld

by Ian Beck