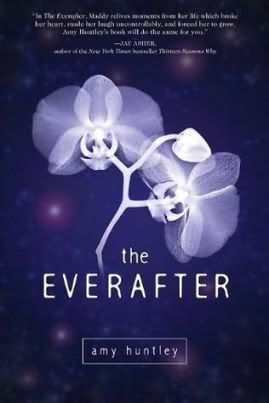 From Amazon:
Madison Stanton doesn't know where she is or how she got there. But she does know this—she is dead. The only company she has in this place are luminescent objects that turn out to be all the things Maddy lost while she was alive. And soon she discovers that with these artifacts, she can reexperience—and sometimes even
change
—moments from her life. In reliving these moments, Maddy learns illuminating and sometimes frightening truths about her life—and death.


The Everafter
is one of those books that has me stuck in the middle; I read it fast and liked the premise, but I felt like something was missing. The characters were a little flat, and I found the plot to be jumpy in places.
Saying that, there are things about this book that I loved. The questions about life and death were fascinating, and made me think about life and what it entails. The use of objects to travel back to past moments was a very clever idea, and was well executed throughout the novel. My favourite aspect of
The Everafter
was Madison and Gabe's realistic relationship. They had ups, downs, arguments, disagreements, and a neverending love. I really wanted to root for these characters like they were friends, but I never ended up with that attachment to them.
I can't fault Amy Huntley's writing style, as she seems to have hit that nail square on the head. It flows well and keeps you turning the pages, and does a great job of making you guess right until the last page. I wasn't all that shocked by the final revelation, and thought it was a bit unrealistic. Of course, these things do happen, I've just never encountered them in everyday life.
I'm looking forward to whatever Huntley writes next, and I hope it's as thought-provoking as her debut novel. With her imagination and fresh voice, she's definitely an author to watch out for.