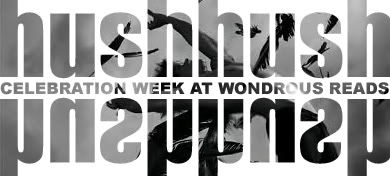 I'm really excited to have had the chance to ask this lovely lady some questions, and to get her thoughts on things. Thanks, Bec!

----------



Can you tell us a bit about your publication process?
I'll be honest – it was a long process. Whenever I read stories about authors who write their entire book and sell it all in the space of ten days, I want to cry. (Okay, truthfully, I want to pull out my voo-doo doll...) I started writing
Hush, Hush
in 2003. I wrote the first couple of chapters – basically where Patch and Nora (then named Ellie) meet up in bio class – and when I finished, I thought those couple of chapters were pretty decent. I thought it might be a good time to see if anyone wanted to publish the story. So I mailed out two queries to agents. Right away, both agents requested the full. Problem was, I didn't have a full manuscript. I spent the next week furiously writing another couple hundred pages, then shipped them off. Needless to say, both agents declined representation.
The next five years played out the same cycle of writing, submitting, receiving rejections and rewriting. For whatever reason, I refused to give up on the story. I kept at it, deleting and rewriting hundreds and hundreds of pages, until finally in September 2008, Simon & Schuster bought the book. After so many years of rejection, it was hard to believe it had finally happened. All I can say is, I will never underestimate the
value of perseverance again!
Where did the fallen angel idea come from?
When I started writing
Hush, Hush
, I knew I wanted Patch to be the ultimate bad boy...but with a twist. He hadn't always been bad. In fact, at one point, he'd been really good, and something had caused this big change. While pondering what had caused Patch's fall from grace, the metaphor of "falling" that I was carrying around in my head became something quite literal – a fallen angel. Since I already knew Patch was going to be the ultimate bad boy, this revelation seemed perfect – after all, fallen angels are the original bad boys.
Patch is like the perfect tall, dark and dangerous bad boy that girls inevitably love. Just how did you make him so alluring?
I may be getting on in years, but I haven't quite forgotten the kind of guy I would have secretly been madly in love – er, lust – with!
Are Nora and Vee based on any real-life friends of yours?
This past summer I went on vacation with my sisters and mom, who had just finished Hush, Hush for the first time. All of them commented on Vee, and how much she reminded them of two of my childhood friends. I hadn't made Vee so similar to these friends on purpose; I think when writers write from our hearts, these things are bound to happen. How can I write about characters I love, and not borrow from the people who taught me about love and friendship in the first place, you know?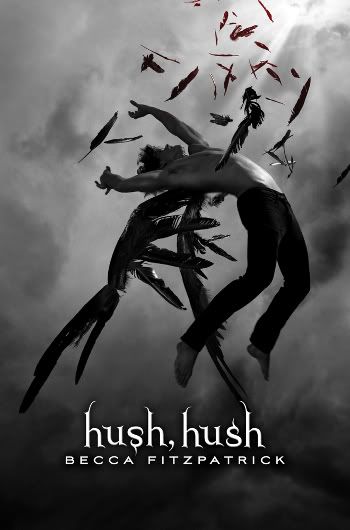 I think everyone knows by now how much I love your book cover. Do you think it's made a difference to your book sales/publicity?
I really think it has. I'm not sure I could walk past
Hush, Hush
in the bookstore and not stop for a second look. The cover is absolutely stunning. It's perfect. All I can hope now is that the story between the covers lives up to the expectation!
So,

Crescendo

- can you tell us anything? Anything at all? Please?
For you, Jen, of course :). So...
Crescendo
. I'll come clean right now and say I think it's better than
Hush, Hush
. It's sexier and snappier. It's a little darker. Marcie Millar plays a bigger role in the plot. Another secondary character also returns, but I'm not going to say who just yet. Readers are going to find out what really happened the night Nora's dad was murdered...
What are some of your favourite YA books/authors?
Speak
by Laurie Halse Anderson; Linda Gerber's
Death By
series, anything by Meg Cabot,
Twilight
by Stephenie Meyer,
Make Lemonade
by Virginia Euwer Wolff,
The Book Thief
by Markus Zusak, and
Anne of Green Gables
by L.M. Montgomery.
Who would be your ideal guardian angel?
Oh man, I don't know! If I had to choose someone to guard my life, I'd probably choose a girl. Girls know what's up. And we have better instincts. But my husband wouldn't do a bad job, either ;).
----------
Related links:
* Becca Fitzpatrick:
Official site
,
LJ blog
*
Hush, Hush
fansite:
Fallen Archangel

* UK publisher's site:
Simon & Schuster

* My review:
Hush, Hush
by Becca Fitzpatrick
* My cover feature:
Part One
,
Part Two