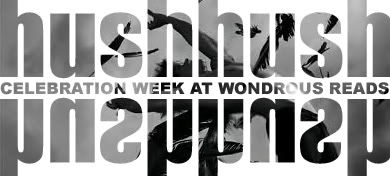 Becca Fitzpatrick: author of
Hush, Hush
Blending Myth with Reality

Like many little girls, I used to have nightmares about monsters. Not senseless monsters who wanted to devour me in three bites, but calculating monsters who wanted to steal me away from my home and family, and hold me hostage in their monsterish lairs, which were bleak and cold and impossible to escape. I'd wake from a nightmare to total blackness, my face mashed into my pillow, my ears alert, listening for the soft tread of feet making their way down the hall to my bedroom door. It was very easy to mistake the thrumming of my heart for the sound of a doorknob turning. As I lay paralyzed, my mind frantically assessed my next move. If I held still, would the monster not see me and leave? If I screamed, would he kill me before my parents could rush in and save me? If I hid in my closet, would something even worse be waiting inside?
One afternoon while walking home from school, I confessed my fears to my older sister. She carefully explained that if I would only tap my hand softly against my mattress the next time I woke from a nightmare, the monster would have to retreat. One step backward for every tap. I asked how she knew this secret. She told me it was in the dictionary, and I was free to look it up. And I just might have, if I'd known how to navigate a dictionary at the age of six.
That night (or one soon thereafter) I woke in the night, sprinkled in a cold sweat. My throat was dry, and I could feel my pulse clear up in my temples. A monster was in my bedroom. I could hear him approach. I could smell him approach. His breath fell on the back of my neck, and then –
Remembering my sister's words, I tapped my trembling hand against the mattress. I could feel the monster pull back. I tapped my hand again. And again. And a hundred times more, hoping if my eyelids betrayed me and shut against my will before sunrise, the monster would be ten hundred miles away.
For several more years, I thought I was in on the greatest kept secret of all time. More nights than I can remember, I lulled myself back to sleep by gently tapping my hand against the side of my mattress. This was the one myth of my childhood that outlasted even my belief in Santa Claus. The sinister creatures of my nightmares were real, so very real, and I needed something powerful – something preternaturally powerful – to combat them. Because as we all know, when trapped in a nightmare, nothing of this world will save you. Not a cry for help, not a weapon. In a nightmare, even the simple act of running away will turn your feet into immovable blocks of cement. Which is why we often turn to things out of the world to combat our greatest fears.
Enter myths.
Legends.
Phenomenons.
In
HUSH, HUSH
, Nora is beguiled away from her safe, normal world into a nightmarish land of suspicion, deception and self-doubt. She doesn't know who to trust. She isn't even sure she can trust herself. To make matters worse, she isn't sure where in the world – or out of the world – she's going to be taken from one page to the next. And despite a strong suspicion that Patch is up to no good, she believes he has the power to unlock the door back into her safe, ordinary world.
It's a well-known fact that we fear what we don't know. We're terrified of the things we can't explain. In
HUSH, HUSH
, it's no different for Nora. At one moment she feels an irresistible draw to Patch. At the next, she suspects he may be trying to end her life. The effect is the roller coaster of suspense: a ride of twists and turns, and blind descents. A ride that builds in momentum, never slowing until it spits you back on the platform, safe, but not altogether sound.
Even though we might not believe in the monsters of our nightmares, we understand the emotions they leave lingering in our hearts long after we wake: fear, helplessness, deception.
That's the power of myth.
-----
And that brings my
Hush, Hush
UK release celebration to a close! Thanks to everyone who stopped by my blog this week - I've had so much fun!
Extra thanks go to Becca for putting up with months of my email preparation, and to Kat at S&S UK for the same... thanks, guys!