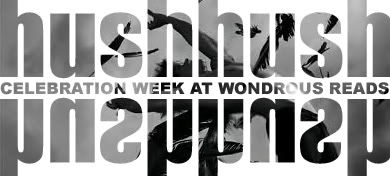 From Amazon:
A sacred oath, a fallen angel, a forbidden love... Forced to sit next to Patch in science class, Nora attempts to resist his flirting, though gradually falls for him against her better judgment. Meanwhile creepy things are going on with a mysterious stalker following her car, breaking into her house and attacking her best friend, Vi. Nora suspects Patch, but there are other suspects too - not least a new boy who has transferred from a different college after being wrongly accused of murdering his girlfriend. And he seems to have taken a shine to Nora... Love certainly is dangerous... and someone is going to have to make the ultimate sacrifice for it.
I'll be honest here: I would have read this book even if it had turned out to be about bricklaying or quantum physics -- that's how much of an impact the cover had on me. When people say book covers can be works of art, they really aren't joking!
Hush, Hush
is the first fallen angel book I've read, so I didn't know what to expect. What I didn't think I'd get was hot bad boy Patch, an intricately crafted plot and more angel mythology than I'd ever encountered before.
There's no doubt about it: Patch is alluring. He has that couldn't-care-less attitude, mysterious secrets and is clad in an all black attire. He's standard fare when it comes to the bad boys of the world, which is why I immediately knew he was my new favourite YA male. His relationship with Nora is frustrating at times, because he won't open up, she won't push him more, yet there's always a strong spark between them. If I was ever rooting for a couple to just hurry up and get together, it was these two. Nora herself is a strong character, with problems and hang-ups that every teenage girl will be familiar with. Best friend Vee is also an energetic addition to the story, and is a great contrast to Nora, who tends to be a little bit quiet and pre-occupied.
The story unfolds slowly, giving the reader plenty of time to form their own theories and opinions of what is actually going on. I was surprised, excited and shocked by many of the plot twists and turns and, as usual, I hardly saw any of them coming. Guessing what happens next isn't one of my strong points, so lucky for me I was in the dark for the majority of the book. By the end my head was spinning, and I just wanted to go back and read it all again, and take in every little detail and description I might have missed before.
Becca Fitzpatrick has created a dark, dangerous story, with a clever plot and fascinating characters. Her writing is addictive, and once you start, you can't stop. Patch will lure you into a world of angels that you won't want to leave, so be prepared. Teenagers with wings have never looked so good.