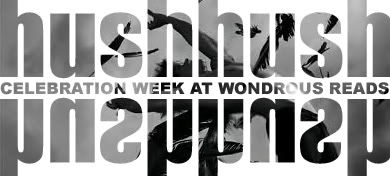 A big thanks to Kat for the write up, and thanks to
Liz
for the picture of model Patch!
-----

I was so pleased when the lovely Jenny asked for me to recount a little bit of the marketing and publicity side of
HUSH, HUSH
as part of her blog!
HUSH, HUSH
is one of the most exciting books on our list this year, and from the moment it fell into our hands pre-publication, we all loved it – something so special deserved as much marketing and PR as we could give it. So we did teasers, postcards, press releases that came with red envelopes and feathers, limited edition proofs… the works. We told EVERYONE about this book, from bloggers to trade to tweeting incessantly, telling friends, the man sitting next to us on the bus, and yet we were sure we could still keep going…
The story I really want to talk about was how we managed to get
HUSH, HUSH
to the Fourth Plinth in Trafalgar Square, London, as part of Antony Gormley's One And Other art project. For those who aren't familiar, One And Other was a 100 day stint in which a person would stand for one hour on the Fourth Plinth in Trafalgar Square, to be replaced by another, and another, twenty four hours a day. 2,400 people stood on that plinth between 6th July and 14th October. The rules? There really weren't any – as long as there were no live animals, or prejudiced commentaries, the Plinth was a stage for human interest, ranging from civil protests to silent memorials to comedy routines, to just plain naked people.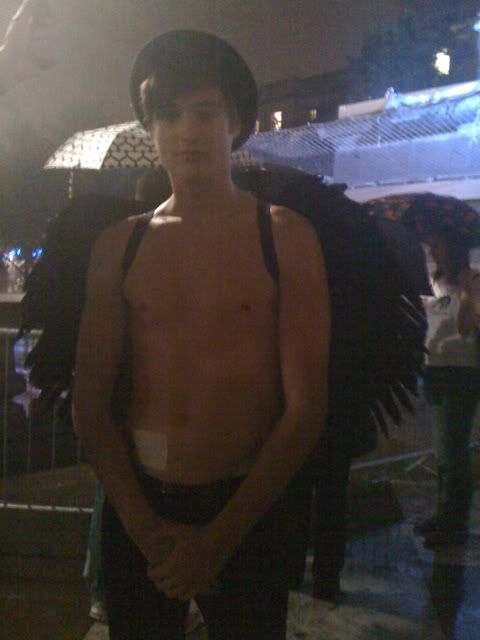 The idea to take
HUSH, HUSH
onto the Fourth Plinth was borne many months before publication, and was really only a pipe dream. More than 35,000 people applied for an opportunity to stand on the Plinth. When it was suggested that we submit our own fallen angel Patch for the chance to win a spot, we were hesitant but determined - no matter how unlikely it was that we'd be in luck! We were just sharpening our pencils and stretching our typing fingers to fill out the forms, drawing hearts around Patch's name, etc…
And suddenly, like a twist of very unlikely fate, our Editorial Assistant managed to bag a spot while we were still tapping in our postcode and agreeing to Terms & Conditions! She very kindly allowed us marketing girls to hijack her performance, and before she knew what was happening she was donning white angel wings and a loud speaker. There was also some eyeliner involved – but that was mostly for Patch.
Lydia took to the Plinth at 8pm on Tuesday, September 15th – six weeks before
HUSH, HUSH
was published - to read from the book to any keen listeners and viewers on the One And Other website (if you haven't already, you can still see her reading
here
). We had an awesome banner, and a great book, and we were all set to go. Then the rain started.
A months' worth of rain fell in that one night, starting fairly early and long before our spot, which led to obsessive checking of AcuWeather in the office. It was still raining hard by the time we got to the Plinth, and it lasted out the duration, soaking Lydia wet through and no doubt the lovely fans who turned up to listen to her read. Meanwhile, the marketing and publicity team (along with an array of the S&S Children's Publishing team members) watched on in wonder at the bottom, with Patch alongside, before handing out 100 free copies of
HUSH, HUSH
to any passers by.
While the rain may have presented a bit of a curveball - we did it! Determined to spread the word about this fantastic book, we weren't going to let a little (or a lot) of rainfall get between us and our venture. In fact, the storm-like rain only added to the atmosphere of the reading, and we were all pretty proud of having done a good night's work. Patch posed for photos with some dedicated bloggers and fans, before drying off his angel wings and fixing his smudged eyeliner.
We loved getting a chance to do something this fun, and creative – it's what marketing and PR is all about, and when you love a book as much as we love
HUSH, HUSH
, getting an opportunity to do something so unlikely is exciting.
HUSH, HUSH
goes on sale in the UK today – we're sure it's going to make a big impact on the YA world and if you haven't read it, make sure you do – it's not to be missed. Just maybe not in the middle of a torrential downpour, as it turns out books and water don't mix well. Trust us!
- Kat
(Marketing and Publicity Assistant, Simon & Schuster Children's UK)