In My Mailbox idea from Kristi @ The Story Siren, and all descriptions from Amazon.
I had such an amazing week this week, I still can't believe it. I have two really cool things to mention: my blog has been shortlisted in the
Manchester Blog Awards
, under best new blog (wow!), and
I'm quoted
on the UK
Hush, Hush
press release, from something I wrote on BellaAndEdward.com. Yay! Now, onto the very exciting books I got this week...

The Monstrumologist: The Terror Beneath
by Rick Yancey
(This sounds cool!)
Will Henry is an assistant to a doctor with a most unusual speciality: monster hunting! In the short time he has lived with the doctor, Will has grown used to late night callers and dangerous business. But when one visitor comes with the body of a young girl and the monster that was feeding on her, Will's world changes forever. The doctor has discovered a baby Anthropophagi - a headless monster that feeds through the mouthfuls of teeth in its chest - and it signals a growing number of Anthropophagi. Now, Will and the doctor must face the horror threatening to consume our world and find the rest of the monsters before it is too late...
-----

Nicholas Dane
by Melvin Burgess
(I love Melvin Burgess, and this sounds just as good as his previous books).
His most substantial book to date, this compelling story of a teenager caught in a corrupt 1980s Care Home is a powerful study of a particularly highly-charged and distressing subject. Handled with great sensitivity and engrossing narrative drive, it is an important addition to the understanding of how childcare can go so wrong. When Nick's mother dies suddenly and unexpectedly, the 14 year old is sent straight into a boys' home, where he finds institutional intimidation and violence keep order. After countless fights and punishments, Nick thinks life can't get any worse - but the professionally respected deputy head, Mr. Creal, who has been grooming him with sweets and solace, has something much more sinister in mind. Nick has no choice but to escape. Living on the run, he falls in with a modern Fagin, a cheerful Rasta who fences stolen credit cards and car stereos. The scarring, shaming experience he suffered at the hands of Mr. Creal can never quite be suppressed, and when the old hatred surfaces, bloody murder and revenge lead to an unforgettable climax.

-----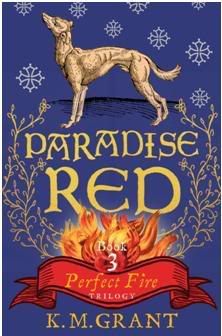 Paradise Red
by K. M. Grant
(I haven't read the first two books in this series, so those are now on my wish list).
As Raimon and Aimery set off to re-gain the flame and the heart of the Occitan, Hugh prepares to lay siege to the Cathar stronghold where the flame burns. Unbeknown to him, his wife Yolanda flees his castle and into the freezing snow. What is Yolanda running from? What underhand game is Aimery about to bring in to play? And will Raimon's passion for the flame cause him to lose Yolanda and even himself? K M Grant's spectacular novel weaves together the friendship, love and bitter rivalry of her wonderfully evoked characters in a finale to a superb trilogy of romance and adventure.
-----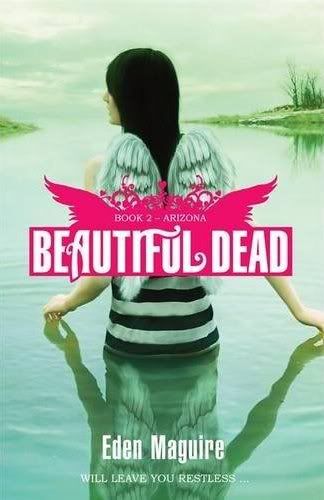 Beautiful Dead: Arizone
by Eden Maguire
(Looking forward to reading this!)
There's been no sign of the Beautiful Dead for weeks. Darina achingly misses Phoenix all over again. But surely he will return with the rest of the Beautiful Dead as so much still remains unresolved. It's been ten months since Arizona drowned in Hartmann Lake. Suicide, it would seem. But something doesn't add up. Drowning herself in a hidden-away lake does not sound like strong, confident, Arizona: Ellerton High School's high-maintenance drama queen. Darina needs to help Arizona the way she helped Jonas. But time is running out ...
-----



Hush, Hush
by Becca Fitzpatrick
(A shiny finished copy! Yay! I'm a huge fan of this book, so I was very excited to get this. My review will be posted soon, during my
Hush, Hush
week at the end of October).
A sacred oath, a fallen angel, a forbidden love...This darkly romantic story features our heroine, Nora Grey, a seemingly normal teenage girl with her own shadowy connection to the Nephilim, and super-alluring bad boy, Patch, now her deskmate in biology class. Together they find themselves at the centre of a centuries-old feud between a fallen angel and a Nephilim...Forced to sit next to Patch in science class, Nora attempts to resist his flirting, though gradually falls for him against her better judgment. Meanwhile creepy things are going on with a mysterious stalker following her car, breaking into her house and attacking her best friend, Vi. Nora suspects Patch, but there are other suspects too - not least a new boy who has transferred from a different college after being wrongly accused of murdering his girlfriend. And he seems to have taken a shine to Nora...Love certainly is dangerous...and someone is going to have to make the ultimate sacrifice for it.
-----

Fallen
by Lauren Kate
(UK proof/ARC. I am SO excited about this book. Woohoo!)
There's something achingly familiar about Daniel Grigori. Mysterious and aloof, he captures Luce Price's attention from the moment she sees him on her first day at the Sword & Cross boarding school in sultry Savannah, Georgia. He's the one bright spot in a place where cell phones are forbidden, the other students are all screw-ups, and security cameras watch every move. Even though Daniel wants nothing to do with Luce--and goes out of his way to make that very clear--she can't let it go. Drawn to him like a moth to a flame, she has to find out what Daniel is so desperate to keep secret . . . even if it kills her. Dangerously exciting and darkly romantic, Fallen is a page turning thriller and the ultimate love story.
-----


+
I hope you all had a really good week! :)