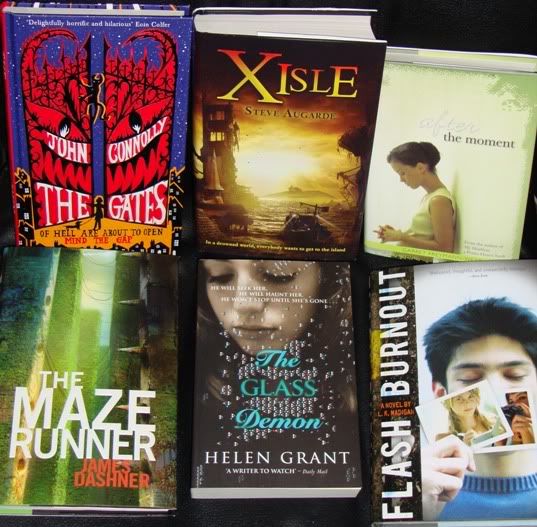 In My Mailbox idea from Kristi @ The Story Siren, and all descriptions from Amazon.
Some great books this week! I also got a UK ARC/proof called
The Glass Demon
, by Helen Grant. I can't find any information on it, which is why it isn't listed below. It sounds and looks amazing, though! (You can see the cover in my the above pic).
-----
For review: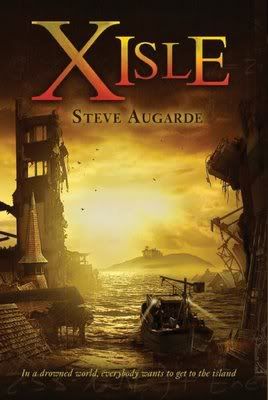 X Isle
by Steve Augarde
(Have heard great things about this!)
Ever since the floods came and washed the world away, survivors have been desperate to win a place on X Isle, the island where life is rumoured to be easier than on what's left of the mainland. Only young boys are in with a chance, the smaller and lighter the better. Baz and Ray are two of the lucky few to be chosen, but they soon discover that X-Isle is a far cry from paradise. Ruled by Preacher John, a dangerous religious fanatic, it's a violent, unpredictable place where terrible things can happen at any moment. The boys hatch an extraordinary plan in order to protect themselves - the construction of a mighty weapon of defence. But can they complete this weapon in time, and are they really prepared to use it in order to secure their freedom? Powerful and compelling, "X Isle" is a fast-moving thriller that will keep you guessing right to the very end.



-----


Bought

: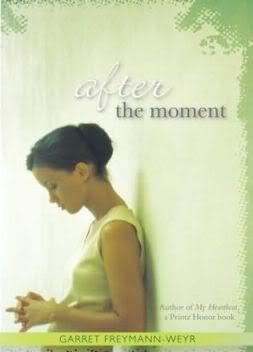 After the Moment
by Garret Freymann-Weyr
(Saw this over on
Steph
's blog, and liked the sound of it).
Maia Morland is pretty, only not pretty-pretty. She's smart. She's brave. She's also a self-proclaimed train wreck. Leigh Hunter is smart, popular, and extremely polite. He's also completely and forever in love with Maia Morland. Their young love starts off like a romance novel—full of hope, strength, and passion. But life is not a romance novel and theirs will never become a true romance. For when Maia needs him the most, Leigh betrays both her trust and her love. Told with compassion and true understanding, After the Moment is about what happens when a young man discovers that sometimes love fails us, and that, quite often, we fail love.
-----

Flash Burnout
by L. K. Madigan
(Sounds interesting!)
Fifteen-year-old Blake has a girlfriend and a friend who's a girl. One of them loves him; the other one needs him. When he snapped a picture of a street person for his photography homework, Blake never dreamed that the woman in the photo was his friend Marissa's long-lost meth addicted mom. Blake's participation in the ensuing drama opens up a world of trouble, both for him and for Marissa. He spends the next few months trying to reconcile the conflicting roles of Boyfriend and Friend. His experiences range from the comic (surviving his dad's birth control talk) to the tragic (a harrowing after-hours visit to the morgue). In a tangle of life and death, love and loyalty, Blake will emerge with a more sharply defined snapshot of himself.


-----
The Gates
by John Connolly
(John came into work last week to sign some stock, so he
signed a copy
of
The Gates
for me. He is a lovely guy!)
A strange novel for strange young people. Young Samuel Johnson and his dachshund Boswell are trying to show initiative by trick-or-treating a full three days before Hallowe'en. Which is how they come to witness strange goings-on at 666 Crowley Avenue. The Abernathys don't mean any harm by their flirtation with Satanism. But it just happens to coincide with a malfunction in the Large Hadron Collider that creates a gap in the universe. A gap in which there is a pair of enormous gates. The gates to Hell. And there are some pretty terrifying beings just itching to get out . . . Can Samuel persuade anyone to take this seriously? Can he harness the power of science to save the world as we know it?
-----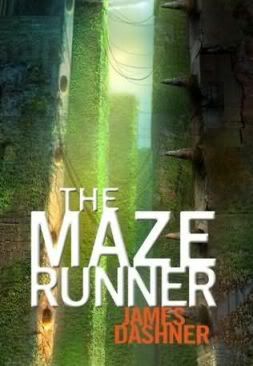 The Maze Runner
by James Dashner
(Heard good things about this one too, and lovely cover!)
When Thomas wakes up in the lift, the only thing he can remember is his first name. His memory is blank. But he's not alone. When the lift's doors open, Thomas finds himself surrounded by kids who welcome him to the Glade—a large, open expanse surrounded by stone walls. Just like Thomas, the Gladers don't know why or how they got to the Glade. All they know is that every morning the stone doors to the maze that surrounds them have opened. Every night they've closed tight. And every 30 days a new boy has been delivered in the lift. Thomas was expected. But the next day, a girl is sent up—the first girl to ever arrive in the Glade. And more surprising yet is the message she delivers. Thomas might be more important than he could ever guess. If only he could unlock the dark secrets buried within his mind.