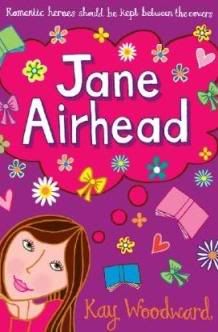 From Amazon:
What's not to love about Jane Eyre? Gothic and passionate, it features the ultimate male hero - Mr Rochester. And that gives Charlotte a top idea: she'll look for a new Mr Rochester for her lovely mum. So when Charlotte finds the ideal man, she can't believe her luck. He's dark, brooding and mysterious. He's PERFECT. But the real-life romantic hero also turns out to be sarcastic and rude. Does Charlotte really want her mum marrying him? Perhaps it would have been better if Mr Rochester had stayed between the covers of Charlotte's favourite novel...?
Jane Airhead
is a humorous look at teen life and relationships, as seen through the eyes of
Jane Eyre
enthusiast Charlotte. The use of
Jane Eyre
references is a great homage to
Charlotte Brontë
, and has now made me want to check out the book. As someone who doesn't do too well with classic literature, this is quite an achievement on Kay Woodward's behalf.

The characters throughout

Jane Airhead

are all thoroughly entertaining, with problems and disagreements that all teenagers and mothers and daughters face at one point or another. The male characters are realistic, especially Jack, a boy not sure how to show his emerging feelings for Charlotte. The fast paced plot made for a fun read, as did Charlotte's determination to find her mum her very own Mr. Rochester. Schemes like this never go according to plan, which is a lesson Charlotte soon learns when she confronts her mum about the mysterious new teacher Mr. Grant.

I love UK teen books -- they're always written in a certain style, and are usually lighthearted and funny. After reading so many books that focus on serious topics, it's a nice change to pick up a story with no major drama, and this is why I enjoyed

Jane Airhead

so much. I'll definitely be keeping an eye out for more novels by Kay Woodward, and until then, I'm going to get over my fear of the classics and dig out a copy of

Jane Eyre

.