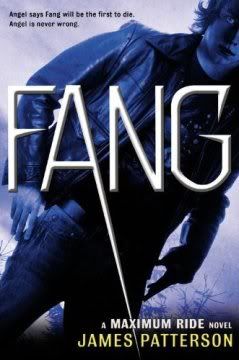 Waiting on Wednesday idea from Jill at Breaking the Spine.
-----
Maximum Ride: Fang
by James Patterson
* Published by:
Little, Brown (US), Century (UK)
* Format: Hardcover
* Release Date:
March 15th, 2010 (US), February 4th, 2010 (UK)
* On Amazon:

here




From Amazon:
Being a kid with wings--constantly on the run--has never been easy, and Max and her flock are getting tenser than ever. First, on a trip to Africa, they meet a mysterious billionaire whose intense scrutiny of the Flock makes her fear the worst. Then, a cryptic message from a young girl arrives, warning them "The sky will fall." And as if an impending apocalypse weren't bad enough, canny birdkid Angel makes a dire prophecy about Max's soul mate: Fang will be the first to die
. Max's desperate desire to protect Fang brings the two closer than ever. But can the team weather the storm, or will the turmoil rip them apart for the last time?
I LOVE this series. I know books 4 & 5 weren't amazing, but Fang is my favourite character, so I can't wait for this one. I'm also looking forward to seeing the UK cover, as this is the US one.