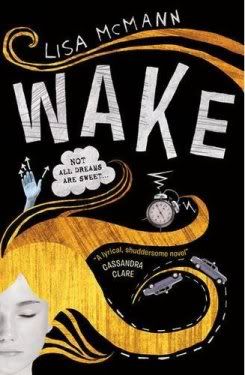 From Amazon:
For seventeen-year-old Janie, getting sucked into other people's dreams at any given moment is getting tired. Especially the falling dreams, and the standing-in-front-of-the-class-naked ones. But then there are the nightmares, the ones that chill her to the bone...like the one where she is in a strange house...in a dirty kitchen...and a sinister monster that edges ever closer. This is the nightmare that she keeps falling into, the one where, for the first time, Janie is more than a witness to someone else's twisted psyche. She is a participant...


I first read
Wake
quite a while ago, but after being sent a new UK copy, I decided to re-read it and write a review. This series is one of my favourites (
Fade
review
here
), and I think Lisa McMann does a really good job of drawing the reader straight into the story.
Janie's gift is fascinating, and to be able to see what other people are dreaming about is both scary and interesting, taking voyeurism to a whole new level. Being a dreamcatcher has its pros and cons; the pros being the chance to help people and solve crimes, with the cons leaning more towards physical ailments and the loss of privacy. The sense that people's deepest, darkest secrets are hidden in their dreams is a constant problem for Janie, because how do you draw the line? How can she keep herself grounded? All are questions the reader is faced with, along with a couple of moral questions of our own.
Cabel is a fantastic male character, and compliments Janie's personality perfectly. He understand her, he helps her, and ultimately becomes her go-to person when she's in trouble. Their relationship progresses as any normal one should -- with a certain amount of trepidation and hesitation. These are characters that can't afford to slip up or make a wrong move: too much is at stake, and this definitely shows through in their attutudes towards each other.
Lisa McMann's writing is simple but stylish, and is the only time I've come across this particular prose. She brings something new to the YA table, and makes sure to target a wide audience by having her story include many different components. Romance, danger, and the difference between right and wrong are just a few of the elements waiting for you within the pages of
Wake
, and if you haven't yet read it, give it a go -- I don't think you'll be disappointed.