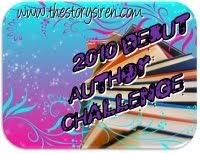 Next year, I am going to be participating in the 2010 Debut Author Challenge, hosted by Kristi at
The Story Siren
.
To learn more about the challenge, visit Krist's info post
here
, or see an excerpt below:
What is the 2010 Debut Author Challenge?




The objective is to read a set number of YA (Young Adult) or MG (Middle Grade) novels from debut authors published this year.* I'm going to challenge everyone to read at least 12 debut novels! I'm hoping to read at least 30! You don't have to list your choices right away, but if you do feel free to change them throughout the year. I will also be focusing on mostly Young Adult novels.
Anyone can join, you don't need a blog to participate. If you don't have a blog you can always share your views by posting a review on Amazon.com/BarnesandNoble.com/GoodReads/Shelfari, or any other bookish site.
The challenge will run from January 1, 2010- December 31, 2010. You can join at anytime!

Here's a list of some titles I'm hoping to read:
1.
The Mark
by Jen Nadol (Bloomsbury USA, January 2010)
2.
The Secret Year
by Jennifer Hubbard (Viking Juvenile, January 2010)
3.
Bleeding Violet
by Dia Reeves (Simon Pulse, January 2010)
4.
The Naughty List
by Suzanne Young (Razorbill, February 2010)
5.
Magic Under Glass
by Jaclyn Dolamore (Bloomsbury, February 2010)
6.
Pretty Bad Things
by C. J. Skuse (Chicken House, March 2010)
7.
The Truth About Leo
by David Yelland (Puffin, April 2010)
8.
Mortlock
by Jon Mayhew (Bloomsbury, April 2010)
9 .
Hex Hall
by Rachel Hawkins (Simon & Schuster, April 2010)
10.
Wintercraft
by Jenna Burtenshaw (Headline, May 2010)
11.
Sea
by Heidi Kling (Putnam Juvenile, June 2010)
12.
13 to Life: A Werewolf's Tale
by Shannon Delany (St. Martin's Press, June 2010)
----------
Debut books read:

January:
1.
Monster Republic
by Ben Horton
2.
When I Was Joe
by Keren David
3.
The Crowfield Curse
by Pat Walsh
4.
Skins: The Novel
by Ali Cronin
5.
Dork Diaries
by Rachel Renee Russell
6.
My So-Called Afterlife by Tamsyn Murray
7.
Desperate Measures by Laura Summers
8.
Hex Hall by Rachel Hawkins
9.
Restoring Harmony by Joelle Anthony
10.
Wintercraft by Jenna Burtenshaw
11. Pretty Bad Things by C. J. Skuse