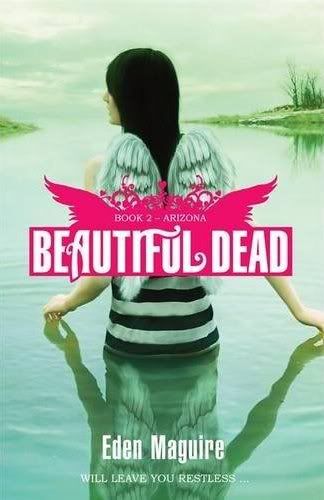 From Amazon:
There's been no sign of the Beautiful Dead for weeks. Darina achingly misses Phoenix all over again. But surely he will return with the rest of the Beautiful Dead as so much still remains unresolved. It's been ten months since Arizona drowned in Hartmann Lake. Suicide, it would seem. But something doesn't add up. Drowning herself in a hidden-away lake does not sound like strong, confident, Arizona: Ellerton High School's high-maintenance drama queen. Darina needs to help Arizona the way she helped Jonas. But time is running out...
I enjoyed
Arizona
more than
Jonas
, as the characters are more developed and established. Although I still haven't quite connected with them as much I'd like, I'm getting there.
Eden Maguire is very clever in the way she keeps you guessing all the way through the book. Small clues about the Beautiful Dead's deaths are given, but it's really hard to piece everything together, and I always end up being surprised at the end. The guess-who crime element keeps the story exciting, and it makes for an interesting premise when coupled with the supernatural zombies and angel wings.
Darina isn't my favourite character, but I'm growing to like her more with each book. Her dedication to helping her friends is a great quality, and it's really starting to shine through as the series progresses. I still think her relationship with Phoenix seems a bit forced, and I'm still hoping for more of their backstory in book four, which will focus on Phoenix's death. Phoenix is my favourite character at the moment -- he's well-written and engaging, and is always on hand to rescue Darina when she needs it.
The
Beautiful Dead
series is a good addition to zombie fiction, and puts a fresh spin on the genre. Maguire has a good handle on her story, and I think it will get better with each book. I'm looking forward to
Summer
, which is due for release in 2010.