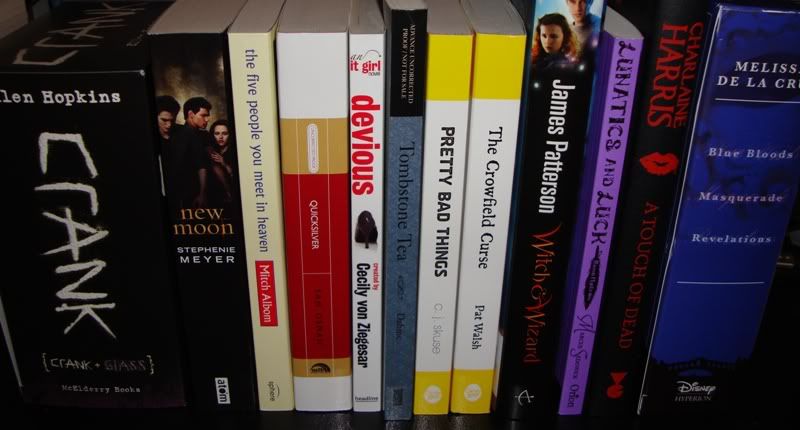 In My Mailbox idea from Kristi @ The Story Siren, and all descriptions from Amazon.
Another great week... I received some very exciting UK proofs, all of which I can't wait to read!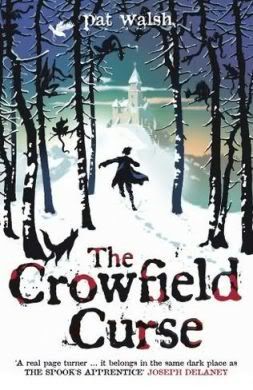 The Crowfield Curse
by Pat Walsh
(UK proof/ARC. This sounds really good!)
It's 1347 and fifteen-year-old Will, an orphan boy, lives at Crowfield Abbey. Sent into the forest to gather wood, he rescues instead, a creature from a trap - a hob, who shares with Will a terrible secret. Somewhere in the forest behind the abbey where he lives,is a grave. And buried deep in the snow is an angel. But how can an angel die? What has it to do with the monks of the Abbey? When two hooded strangers arrive at Crowfield asking questions about the angel's grave. Will is drawn into a world of dangerous Old Magic. The Crowfield Feather was short-listed for the Times Chidren's Fiction Competition in 2008. This is a stunning debut novel and the first of a two part series.
-----



The Raven Mysteries: Lunatics & Luck
by Marcus Sedgwick
(UK proof/ARC. So excited to read this - I love the RM series!
)
Join the wonderfully weird Otherhand family and their faithful guardian, Edgar the raven, and discover the dark secrets of Castle Otherhand. Solstice and Cudweed are appalled to find their father has appointed a new school master. But things get even worse when the grumpy, viciously mean teacher actually arrives. The Otherhand children are sure there's something more to him than meets the eye - the trouble is, who will believe them? No one it seems. Except, perhaps, Edgar.
-----




Pretty Bad Things
by C. J. Skuse
(UK proof/ARC. This sounds like another great book from Chicken House).
SIXTEEN-YEAR OLD TWINS IN CANDY-STORE CRIME SPREE Twins, Paisley and Beau Argent are in the headlines again. Last time, they were the 'wonder twins', when as six-year-olds they were found alive in woods after three days missing following their mother's death -three days spent looking for their dad. Now at sixteen, life's not so wonderful. Out-cast and exploited by their money-grabbing grandmother they're still clueless about their dad's whereabouts. Until they discover an old letter from him. That's when they decide.
-----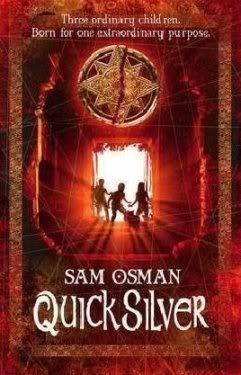 Quicksilver
by Sam Osman
(UK proof/ARC. This also sounds like a great read - I'm looking forward to it!)
Dark powers from the past are searching for three extraordinary chilren... Wolfie, Tala and Zi'ib were born on the same day on opposite sides of the world. They are brought together by astonishing coincidence - or so it seems. But only they can fulfil an ancient prophecy - and find a treasure of incalculable power. Can the mysterious energies that flow through the Earth's prehistoric leylines be controlling their lives? And will they discover the chilling truth of who they really are?
-----



Tombstone Tea
by Joanne Dahme
(US ARC. This was a complete surprise, and I think it's out in the UK in February. Sounds good, eh?)
This title features a page-turning tale in which a young girl accidentally discovers her ability to communicate with the spirits of the dead - she must use this newfound power to bring peace to a cemetery full of disgruntled ghosts. In order to fit in at her new high school and be accepted in the 'in crowd', Amy accepts a dare to spend one night in a local cemetery. Once inside the gate of the dark and frightening burial ground, Amy meets Paul, a handsome boy who works as a caretaker at the cemetery. Paul explains to Amy about Tombstone Tea: a performance in which actors impersonate the people buried in the cemetery. The actors are supposedly rehearsing on this particular evening, but Amy discovers that they are actually ghosts of the deceased. Will Amy be able to settle the ancient dispute that creates danger and unrest within the cemetery walls?
-----





The It Girl: Devious
by Cecily von Ziegesar
(More excitement when this arrived... I think everyone knows by now that I'm a big fan of this series!
)
The ninth book in the New York Times bestselling IT GIRL series

Jenny Humphrey could have lost everything she'd worked so hard for when the reality show her adoring freshman fans were filming backfired on her in the most publicly humiliating way...but it meant she found out who her friends were - maybe Waverly is big enough for four IT girls?
-----


Bought:

Happy reading, everyone!