In My Mailbox idea from Kristi @ The Story Siren, and all descriptions from Amazon.
I had a very exciting week this week:
New Moon
was finally released, and I got some very exciting books. Those of you that have seen the movie, what did you think? I saw it 4 times yesterday and LOVED it! (No surprises there, eh?!) :)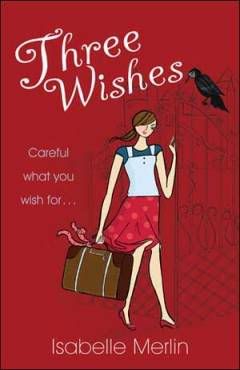 Three Wishes
by Isabelle Merlin
(This sounds good!)
When Rose creates a blog for an English assignment, she doesn't realize it will change her life forever. An elegant stranger arrives to announce that Rose has an aristocratic French grandfather who would like to meet her. Upon arriving at her grandfather's magnificent castle, Rose becomes enchanted with her new life, and particularly with Charlie, a charming boy who is equally besotted with Rose. But as Rose begins to delve deeper into her family's past, her fairytale turns into a nightmare as it becomes clear that someone wants her dead!
-----

Dear Me: A Letter to My Sixteen-Year-Old Self

edited by Joseph Galliano
(This is such a cool book!)
If you were to write a letter to your 16-year-old self, what would it say?

In Dear Me, some of the world's best loved personalities have written just such a letter. Dear Me includes letters from three knights, a handful of Oscar winners, a bevy of Baftas, an intrepid explorer, a few teenage pop stars, an avid horticulturalist, pages and pages of bestselling authors, a dishy doctor, a full credit of film directors, a lovey of top actors, a giggle of comedians and an Archbishop! The letters range from the compassionate to the shocking via hilarity and heartbreak, but they all have one thing in common: they offer a unique insight into the teenager who would grow up to be.... Stephen Fry, Annie Lennox, Paul O'Grady, Jackie Collins, Fay Weldon, Alan Carr, Peter Kay, Debbie Harry, Brenda Blethyn , Jonathan Ross, Liz Smith, Will Young, Alison Moyet, Rosanne Cash, Sir Ranulph Fiennes, Yoko Ono, Emma Thompson… to name but a few.
-----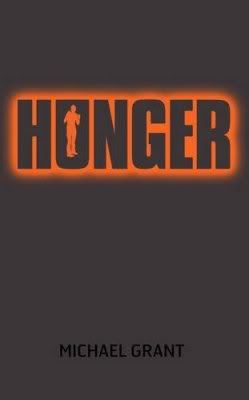 Hunger

by Michael Grant
(I love the UK cover for this!)
*
Gone
Spoilers*
The clock is ticking for Sam Temple and the kids of Perdido Beach but it's not the big one-five that they face now; it's starvation that threatens the FAYZ. In an abandoned mine shaft a faceless animal lurks, pulling the strings, toying with human and mutant alike. And he's hungry - hungry in the darkness. An uneasy calm has settled over Perdido Beach. But soon, fear explodes into desperation as starvation sets in and the mob look to place blame. For the 'normals' the buck must stop somewhere: with the 'freaks'. More and more kids are developing strange powers and, just as frighteningly, so are the animals in the FAYZ: talking coyotes, swimming bats and deadly worms with razor-sharp teeth are just the beginning. For Sam Temple the strain of leadership is beginning to show and he's got more than just dwindling rations and in-fighting to worry about - Caine is back with the psychotic whiphand, Drake, by his side. And in the background lies the greatest danger of all - and he too needs to be fed.
-----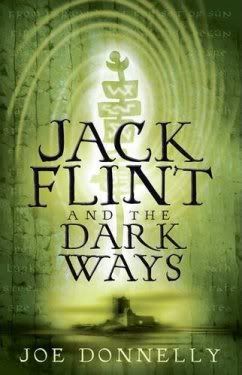 Jack Flint and the Dark Ways
by Joe Donnelly
(UK proof/ARC. I've never heard of this series but it sounds good. This is book #3.)
Continuing Jack's quest to find his father, Jack, Kerry and Corrie have passed through the gate into the peaceful summerland of Uaine. Hoping for a period of respite after all their adventures, they quickly discover that all is not well. The power-hungry spellbinder, Bodrun, has stolen the Copperplates - protective magical talismans - and released the terrifying Nightshades into the world. These creatures stalk the night, searching for a way to break through to other worlds and wreak havoc. They will do anything to get their claws into the heartstone. With The Book of Ways to guide them, Jack and his friends must travel deep into Bodrun's lair, facing gargoyles, giant spiders, walls of fire, shrieking all-consuming Nightshades, before a final confrontation with the evil spellbinder himself. And as Jack finds himself in the midst of this nightmare, he is forced to face up to what really happened to his father so long ago.
-----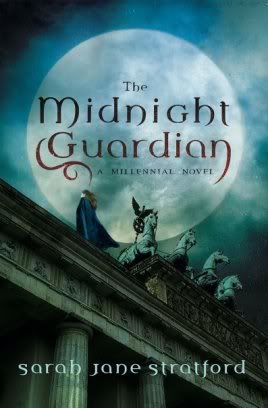 The Midnight Guardian
by Sarah Jane Stratford
(WWII & vampires... could this sound any better?!)
It's 1938, and the tentacles of Hitler's terrifying Third Reich have commenced their stranglehold on Europe. The Nazi empire will soon be clean of all bloodlines deemed tainted or undesirable…including vampires.
London's ancient tribunal of vampires is aghast at the destruction taking place on the Continent. Though vampires try not to interfere with human politics, Hitler's terrible plans force them into action. They resolve to send five of their most formidable vampires to Berlin— millennials that have lived over 1000 years and whose age and wisdom make them close to invulnerable— to infiltrate, disrupt, and destroy the growing Nazi war machine.


The brilliant and beautiful millennial Brigit is loath to go, but her powers are needed if the mission is to have any chance of success. She must summon all her strength to endure the separation from her lover Eamon, whom she made almost eight centuries ago, but whose lack of millennial status makes him an unacceptable choice for this operation. Though he longs to join her, his duty to Brigit is best served from afar, by nurturing their deep psychic connection and reinforcing her spirit with his fierce devotion and memories of his tender embrace.


But as the millennials attempt to penetrate and sabotage Hitler's armies, they discover that the Nazis are more capable than any human force they've yet encountered and more monstrous than they'd ever imagined. Forced to take bolder, more dangerous steps, they soon attract the attention of specially trained vampire hunters loyal to Hitler and his vision of a vampire-free Europe. Exposed, deep inside enemy territory, with vicious Nazi officers and hunters at her heels, Brigit must attempt a daring escape from the Continent, guarding precious cargo that marks the only hope of salvaging their mission.
-----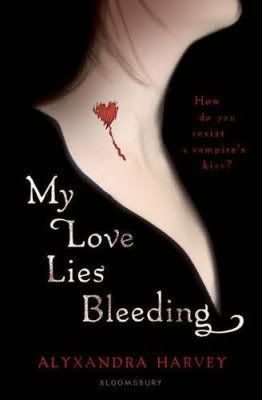 My Love Lies Bleeding
by Alyxandra Harvey
(I'm excited to read this - can't wait!)
The Blakes are rather different to your usual neighbours. They are vampires and some of the members of the family date back to the twelfth century. One of the children, Solange, is the only born female vampire known and, as such, she poses a direct threat to the vampire queen. Her best friend Lucy is human, and when Solange is kidnapped Lucy and Solange's brother, Nicholas, set out to save her. Lucy soon discovers that she would like to be more than just friends with Nicholas. But how does one go about dating a vampire? Meanwhile, Solange finds an unlikely ally in Kieran, a vampire slayer on the hunt for his father's killer.
-----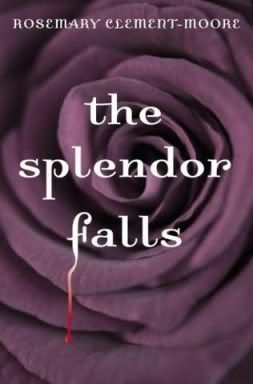 The Splendour Falls
by Rosemary Clement-Moore
(UK proof/ARC. I was so excited when I opened this, I've been wanting to read it since it was released in the US. It came wrapped in black paper, with petals and a velvety ribbon, along with a hand-written letter made to look old. Brilliant!)
Sylvie Davies is a ballerina who can't dance. A broken leg ended her career, but what broke her heart was her father's death, and what's breaking her spirit is her mother's remarriage. Still reeling Sylvie is shipped off to stay with relatives in the back of beyond. Or so she thinks, in fact she ends up in a town rich with her family's history ...and as it turns out her family has a lot more history than Sylvie ever knew. More unnerving, though, are the two guys she can't stop thinking about. Shawn Maddox, the resident golden boy, is the expected choice. But handsome and mysterious Rhys has a hold on her that she doesn't quite understand. Then Sylvie starts seeing things - a girl by the lake and a man with dark unseeing eyes peering in through the window ...Sylvie's lost nearly everything - is she starting to lose her mind as well?
Bought: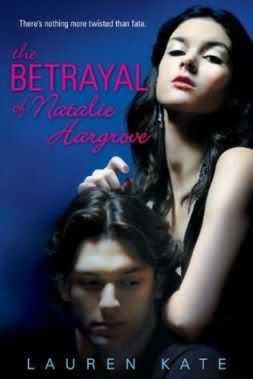 The Betrayal of Natalie Hargrove
by Lauren Kate
(I love Lauren's writing, so I hope this is good!)
A steamy Southern beauty makes one fatal mistake. Natalie Hargrove would kill to be her high school's Palmetto Princess. But her boyfriend Mike King doesn't share her dream and risks losing the honor of Palmetto Prince to Natalie's nemesis, Justin Balmer. So she convinces Mike to help play a prank on Justin. . . one that goes terribly wrong. They tie him to the front of the church after a party—when they arrive the next morning, Justin is dead. From blackmail to buried desire, dark secrets to darker deeds, Natalie unravels. She never should've messed with fate. Fate is the one thing more twisted than Natalie Hargrove.
Cruel Intentions meets Macbeth in this seductive, riveting tale of conscience and consequence.
-----


One Day
by David Nicholls
(This adult book has been recommended to me by so many people that I just had to buy a copy. It sounds amazing!)
'I can imagine you at forty,' she said, a hint of malice in her voice. 'I can picture it right now.' He smiled without opening his eyes. 'Go on then.'

15th July 1988. Emma and Dexter meet for the first time on the night of their graduation. Tomorrow they must go their separate ways. So where will they be on this one day next year? And the year after that? And every year that follows?

Twenty years, two people, ONE DAY.
-----

Beautiful Creatures
by Kami Garcia & Margaret Stohl
(I love hardcovers so I had to buy this one. I like all the shinyness!)
There were no surprises in Gatlin County. We were pretty much the epicenter of the middle of nowhere. At least, that's what I thought. Turns out, I couldn't have been more wrong. There was a curse. There was a girl. And in the end, there was a grave.
Lena Duchannes is unlike anyone the small Southern town of Gatlin has ever seen, and she's struggling to conceal her power and a curse that has haunted her family for generations. But even within the overgrown gardens, murky swamps and crumbling graveyards of the forgotten South, a secret cannot stay hidden forever.Ethan Wate, who has been counting the months until he can escape from Gatlin, is haunted by dreams of a beautiful girl he has never met. When Lena moves into the town's oldest and most infamous plantation, Ethan is inexplicably drawn to her and determined to uncover the connection between them. In a town with no surprises, one secret could change everything.
Gift:

Anne of Green Gables
by L. M. Montgomery, illustrated by Laura Fernandez & Rick Jacobsen
(I've never read this, so thanks to Tundra Books for sending me a copy!)
Anne (with an 'e' of course)starts out as a mistake. The elderly Matthew and Marilla Cuthbert had planned on adopting a boy to help Matthew with the chores on their Prince Edward Island farm. What are they to do with the red-haired, high-spirited girl who arrives instead? Anne Shirley, with her boundless imagination and heart, slowly brings joy into the narrow lives of those around her, and into the lives of readers who have delighted in her adventures since Lucy Maud Montgomery began writing about her in 1905.
Anne's courage, her enthusiasm, and her ability to love, have made her one of literature's most beloved characters in Canada and around the world. This beautifully illustrated volume, with a foreword by Kate Macdonald Butler, one of L. M. Montgomery's grandchildren, is a treasure for those who find in Anne a familiar friend as well as for those who are discovering this "kindred spirit" for the first time.
-----

And last but not least, this absolutely made my week: a signed copy of
Hush, Hush
from Becca herself! You guys all know how much I love this book, so you can imagine how excited I was when I opened this package. Huge thanks to Becca for this! (and the cool bookmark!)
Happy reading, everyone!