In My Mailbox idea from Kristi @ The Story Siren, and all descriptions from Amazon.
I have had one of the worst weeks ever this week. I don't know if any of you have heard, and I won't go into it too much, but Borders UK (where I work) has gone into administration. Unless someone buys the company, we'll lose our store and our jobs. It's a sad time for UK bookshops and booksellers at the moment, but I just want to say: good luck to all employees at every store, and you're all amazing. May the force be with us.
Girl, Aloud
by Emily Gale
(I am so looking forward to reading this!)
Kass Kennedy is in the spotlight, thanks to her Dad. He plans on selling her soul to the Devil - or at any rate to Simon Cowell when she finds herself pushed into an X-Factor audition. Kass could just say no, but her dad's manic-depressive mood swings are a cnstant worry and he has her in an emotional half-Nelson. Just when things couldn't get worse, Kass falls for a gorgeous older boy, also named Cass. She's amazed when he appears to like her, but it turns out this boy, is her best friend's long-term crush. What's a girl to do? Everything Kass thought she understood starts to fall apart and the only person she can turn to ... grumpy Simon Cowell (literally in her dreams|). She might not be able to sing her way out of a paper bag, but Kass discovers that she isn't a choker when it comes to sorting out real life.
-----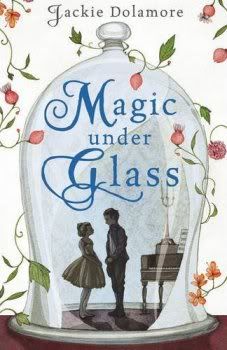 Magic Under Glass

by Jackie Dolamore
(UK proof/ARC. I was very excited when I opened this! Yay!)
Nimira is a music-hall performer forced to dance for pennies to an audience of leering drunks. When wealthy sorcerer Hollin Parry hires her to do a special act - singing accompaniment to an exquisite piano-playing automaton, Nimira believes it is the start of a new life. In Parry's world, however, buried secrets stir. Unsettling below-stairs rumours abound about ghosts, a mad woman roaming the halls, and of Parry's involvement in a gang of ruthless sorcerers who torture fairies for sport. When Nimira discovers the spirit of a dashing young fairy gentleman is trapped inside the automaton's stiff limbs, waiting for someone to break the curse and set him free, the two fall in love. But it is a love set against a dreadful race against time to save the entire fairy realm, which is in mortal peril.


-----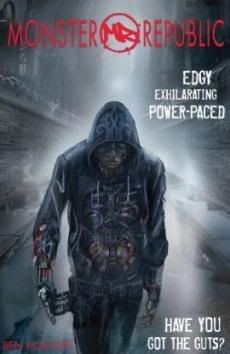 Monster Republic: The Divinity Project by Ben Horton
(I love the cover of this book, and it sounds ace!)
An explosion in a nuclear power plant. Kids patched up with scavenged body parts and bionic implants. A growing army of superhuman soldiers programmed for destruction. 'No', whispered Cameron to the monster in the glass. And he watched it shaking its hideous head. 'That's not me. You're not me'. As commercial and compelling as a computer game, this is the first book in a major new series.



The Looking Glass Wars by Frank Beddor
(I love the sound of this, and I don't know why I haven't bought it before!)
Alyss, born in Wonderland, is destined to be a warrior queen. After a bloody coup topples the Heart regime, Alyss is exiled to another world entirely, where she is adopted into a new family, renamed Alice and befriended by Lewis Carroll. At age 20 she returns to Wonderland to battle Redd and lead Wonderland into its next golden age of imagination.
-----

Seeing Redd
by Sarah Frank Beddor
(How nice is this cover?!)
*
The Looking Glass Wars
spoilers*
Alyss of Wonderland's rule has only just begun, but the Queendom and her White Imagination are already under threat. Someone has resurrected the brutal Glass Eyes, and they are attacking Wonderland on all sides. Has renegade Redd Heart freed herself and her assassin Cat from the prism of the Heart Crystal? Can Alyss trust Boarderland's King Arch, as he extends a benevolent helping hand? A battle is raging but who is the enemy?
-----



Night World: The Ultimate Fan Guide
by L. J. Smith & Annette Pollert
(This is a must-buy for all
Night World
fans!)
You loved Secret Vampire and are counting down to the Strange Fate apocalypse. But who was the first made vampire? How do you properly greet a witch? And why are shapeshifters and werewolves rivals? Prepare to test your Night World knowledge with trivia questions from all nine books; get the inside information about the clans, the soulmate principle, Circle Daybreak, and the four Wild Powers; and take two quizzes to find out how you fit into the Night World.

Best of all, L.J. Smith shares her inspiration for the series, answers the questions you've been asking, and even reveals fun facts about herself in this official guide. Plus, look for the sneak peek at the dramatic conclusion to the series, Strange Fate!
-----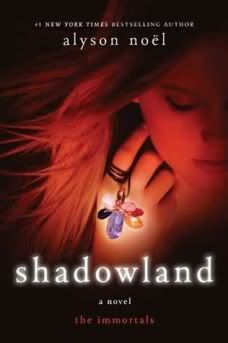 Shadowland
by Alyson Noel
(Again, I love this cover. And it's hardback! :D )
*
Evermore
&
Blue Moon
spoilers*
Ever and Damen have traveled through countless past lives—and fought off the world's darkest enemies—so they could be together forever. But just when their long-awaited destiny is finally within reach, a powerful curse falls upon Damen…one that could destroy everything. Now a single touch of their hands or a soft brush of their lips could mean sudden death—plunging Damen into the Shadowland. Desperate to break the curse and save Damen, Ever immerses herself in magick—and gets help from an unexpected source…a surfer named Jude. Although she and Jude have only just met, he feels startlingly familiar. Despite her fierce loyalty to Damen, Ever is drawn to Jude, a green-eyed golden boy with magical talents and a mysterious past. She's always believed Damen to be her soulmate and one true love—and she still believes it to be true. But as Damen pulls away to save them, Ever's connection with Jude grows stronger—and tests her love for Damen like never before…