I'm very excited to have had the opportunity to interview Lauren Kate, author of
Fallen
. Thanks to my other favourite Lauren for arranging it!
----------
Was your

Fallen

publication process a difficult one?
I was lucky enough to have met my agent beforehand. He was my boss at my first job as an editorial assistant at a publishing house. I talked to him about the concept for
Fallen
and he was able to sell it to Random House based on the first five chapters that I wrote. After the publisher bought it, I pretty much raced to finish the rest of the manuscript!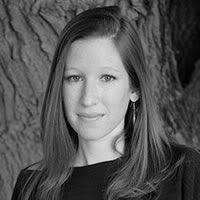 Did you have to do a lot of research into angel mythology, or did you take it from your own knowledge of the subject?
I've always been interested in biblical narratives, so I had a lot of fun doing the research. And boy, was there a lot of angelology research to be found! Actually, the hardest part about writing
Fallen
was knowing when to stop doing the research and when to start writing. Because it's literally one of the oldest topics in the world, each new source I found conflicted with the one I'd just read. Eventually, I had to convince myself that it was okay to pick and choose bits of history that suited my project, to come up with my own mythology for the series.
Is the Sword & Cross reform school based on a real place, or is it purely fictional?
I've started using the term Frankenstein-fictional for many of the things in my books. It's not based on any one real place, but is more an amalgamation of every place that's ever interested me. The cemetery in the school, for example, has elements taken from the Bonaventure Cemetery in Savannah, some taken from the Jewish Cemetery in Prague, and some taken from the Lafayette Cemetery in New Orleans. There's an old revolutionary war fort out at the edge of Savannah and I had that geographical location in mind when I wrote Sword and Cross, though of course, I changed and embellished the details a lot.
Luce is a very strong female character, and I found myself relating to her very quickly. Does her independence and personality in any way reflect your own?
I think one of my defining characteristics might be stubbornness. I don't give up easily on things that I want, and most of the time I like to do the opposite of what's expected of me. It was very important to me that Luce be strong and self-possessed, even when she needs to lean on others. I've never been able to relate to protagonists who waited around for something to happen to them. Which is why Luce makes such a project out of understanding Daniel in
Fallen
. In Torment, she has a very different type of project, which has been a lot of fun to write.
Daniel and Cam are both brilliant YA bad boys. Who is your favourite, and why?
I definitely go back and forth. What I love about Daniel is the fact that he knows Luce better than anyone in the world (because he's been with her for…thousands of years!), he knows her better than she knows herself, even. I think about this when I get frustrated with Daniel for being distant or rude to her. He always has her best interest in mind long term. Plus, you know, he's beautiful.
But I also love Cam's forwardness and the way he challenges Luce. He keeps her on her toes in a very different way than Daniel does. In a weird way, it's Cam more than Daniel who is based on my husband (who'd just proposed to me when I started writing
Fallen
). I love that your question suggests that there is more than one type of bad boy! So many nuances to adore…
What were your initial thoughts on the book cover?
Stunned speechless. I thought it was gorgeous, and so rich, a real entrance into another world. It just popped up in an email from my editor one day and a second after opening it, I had "fallen" for it. I found out later that the publisher went through rounds and rounds of other covers after this one, and eventually polled a bunch of teens for their favourite. I had no idea there was ever any other option! They ended up sticking with the original, which I'm very glad about.
Can you tell us anything about

Torment

, the second book in the series?
I'm having so much fun writing
Torment
that it's hard for me not to spill everything right now so I can say, "Aren't you excited? Won't this be great?" But my publisher would probably have my head. So in lieu of that, I'll reveal just three things:
1. As Luce learns more about her past, she comes into a host of powers she never knew she had—and they might involve the shadows.
2. After the second book comes out, a prequel (which will span thousands of years!) will follow before the final book in the series.
3. Even though, of course, Daniel is Luce's one-and-only, a very interesting new male character is introduced in
Torment
that offers him some stiff competition.
----------
Related links:
Lauren's site:
Lauren Kate Books.net
US
Fallen
site:
Fallen Books.com

UK publisher's site:
Random House
My review:
Fallen
by Lauren Kate