I was recently asked to participate in Derek Landy's (author of the
Skulduggery Pleasant/Scepter of the Ancients
series) mini blog tour. I of course said yes - who wouldn't?! Thanks to John for arranging it all!
-----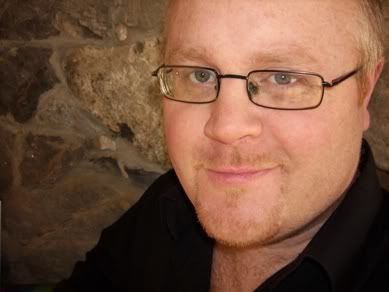 How has

Skulduggery

's success changed your life?
My life has changed utterly since Skulduggery. He has allowed me to buy my own house, stop working on the family farm, and basically live the life I've always dreamed of living. My family is thrilled about everything that's happened, and you can especially see it in my parents' faces. For years, I was the kid they had to worry about, the kid who refused to focus in school, who got kicked out of college, who spent his days dreaming... And now, suddenly, I'm the one whose dreams have come true. For months after I got the news that Harper Collins wanted to publish the book, I'd walk into the kitchen and my parents would instantly break out into the biggest smiles I'd ever seen.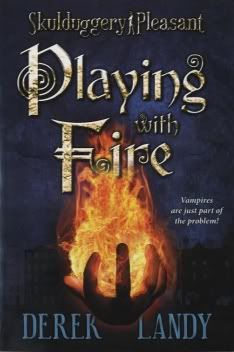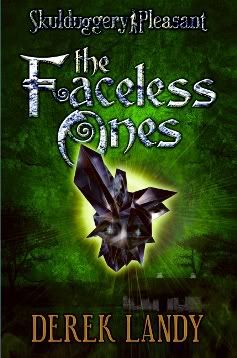 Stephanie and Skulduggery make a brilliant team. Did you always intend for a 12-year-old girl and a dead skeleton to be your main characters, and what was their inspiration?
Skulduggery arrived in my head one night, told me exactly who he was and what he expected of me. I have no idea where he came from, because writing a book about a living skeleton was not in my plans…! The first thing I did when I came up with him was write a conversation between him and someone else, about what it's like being dead, and what he misses about being alive. For whatever reason, the person he was talking to was a girl. Initially she was 14, but I made her a little younger because I wanted her to grow into her teenage years as a sorcerer, not discover magic halfway through.
I think the books would be drastically different if Skulduggery's partner had been a boy. The friendship and the banter wouldn't work so well, because the boy would probably feel that he had to prove himself to his mentor, whereas Stephanie has never felt the need to prove herself. She naturally assumes she is Skulduggery's equal…!
Stephanie, or Valkyrie as she later becomes, is the only character based on a real person. I wanted her to be strong, and funny, and smart, and capable, so I based her on my best friend.
Do you have any input into the design of your book covers? Which is your favourite?
I have a few different types of covers, because sometimes different countries need different approaches. My favourite covers are the Ireland/UK/Australia covers, which I think are amazing.
Before Tom Percival, the artist, begins, I'll send him a physical description of each of the characters. He'll come up with an idea, sketch it out, and send it to me. I tell him whether I like it, what I like about it, what I think needs to be changed, and he goes off and reworks it. Then he'll send me another sketch, and that's usually pretty much perfect. I approve it and he disappears again, then weeks later he'll send an almost-finished drawing for any last minute changes.
My favourite cover is still the first, but I've just received the cover for Book Four,
Dark Days
, and that's definitely my second favourite…!
-----
Thanks for answering my questions, Derek! Below is a list of other blogs participating in Derek's mini-interview tour, along with a link to his new personal blog.
Read other questions and answers at the following blogs/sites:
Essex Library Teen Space
,
Green Bean Teen Queen
,
Library Lounge Lizard
, and
Read Kiddo Read
.
You can also visit Derek's new personal blog, and find out all the latest news on Skulduggery's worldwide goings-on:
Derek Landy Blogs Under Duress
.