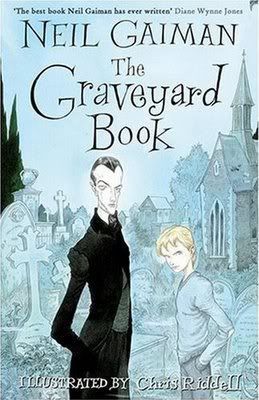 From Amazon:
When a baby escapes a murderer intent on killing the entire family, who would have thought it would find safety and security in the local graveyard? Brought up by the resident ghosts, ghouls and spectres, Bod has an eccentric childhood learning about life from the dead. But for Bod there is also the danger of the murderer still looking for him - after all, he is the last remaining member of the family. A stunningly original novel deftly constructed over eight chapters, featuring every second year of Bod's life, from babyhood to adolescence. Will Bod survive to be a man?
The Graveyard Book
is unusual and strange, and I absolutely loved it. Once I started reading it, I couldn't stop, and I'm blaming that on Gaiman's fantastic characterisation and original ideas.
Although Bod is the main character, I felt like everyone had a big part to play and, in a way, they all took centre stage. Each personality was so vibrant and unique that it was easier to think of them as an ensemble cast. Gaiman wrote gravestone epitaphs after each character's name, and that was one of my favourite parts of
The Graveyard Book
. How someone is remembered says a lot about their life, and it was fascinating to see how each ghost was represented. Even in death, they were still remembered, through Bod and his ability to exist with them.
Having never read a Gaiman book before, I was surprised by the humour included in his writing. It was on the more quirky, ironic side, and fitted in well with the overall tone of the story. I did find myself quite sad at the end, not just because of the events, but because I couldn't spend any more time with Bod and Co. I'm thinking that a re-read may be in order one day, though I doubt I'll ever be able to get that initial magic back.
The Graveyard Book
gets two thumbs up from me. Please can I join the Gaiman fanclub?