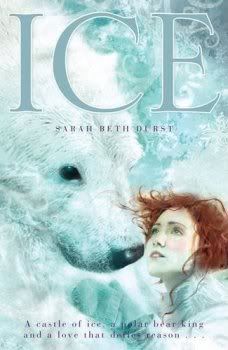 From Amazon:
When Cassie was little her grandmother would tell her stories about the Arctic. Cassie is older now and has no time for fairytales and talking animals, or lies about her dead mother. Living with her father at the Arctic research centre, she is determined to become a leading scientist and researcher. But when Cassie comes face to face with a mysterious polar bear, one that defies all scientific fact or knowledge, she begins to realise that the fairytales could actually be true.
Ice
is a magical, compelling story that is perfect for reading in the middle of a snow-filled winter. It draws you in to Cassie's world, and takes you on a journey through an Arctic different to how you or I have ever imagined it.
When I first started reading
Ice
, I wasn't sure what to expect. I'm not usually a fan of fairytale retellings and, to be honest, the thought of a talking polar bear left me more than a little skeptical. I gave it a go, in true open-minded-YA-reader style, and thoroughly enjoyed it. Because I wasn't familiar with the old story, it didn't feel like a retelling, and I ended up growing quite attached to the bear and his human ways.
Sarah Beth Durst's writing is very polished and easy to read, with characters and locations that immediately come to life on the page. I loved the mixture of animals that showed up in the latter half of the book, and their dedication to helping Cassie on her journey was brilliant. I found Bear to be quite an odd fellow at times, but I think in his own little way, he really did love Cassie. He risked everything for her, which has to count for something in the grand scheme of things.
If you want to lose yourself in a fantasy world of myths, legends and Narnian-like animals, then buy yourself a copy of
Ice
. I'm not well versed in the ways of fairytales, but even I enjoyed this one!