In My Mailbox idea from Kristi @ The Story Siren, and all descriptions from Amazon.
I had a better week this week! I got some great books, and had a very fun book shopping trip with
Carla
(AKA LovesSam).


Dork Diaries
by Rachel Renee Russell
(This looks brilliant!)
Nikki Maxwell is not popular, in fact Nikki Maxwell is the opposite of popular; she's a total dork! But Nikki's hoping that by moving to a new school she might just stand a chance of making some friends and leaving her old lame-ways in the past. But life is never that simple! Follow Nikki's life through sketches, doodles and diary entries as she starts her new school, battles with her mum for an iPhone and meets her arch-nemisis, the school's queen bee, Mackenzie. Enter Nikki's world through her sketches, doodles and diary entries.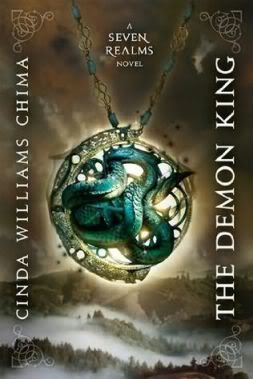 The Demon King

by Cinda Williams Chima
(Love the cover!)
Times are hard in the mountain city of Fellsmarch. Reformed thief Han Alister will do almost anything to eke out a living for himself, his mother, and his sister Mari. Ironically, the only thing of value he has is something he can't sell. For as long as Han can remember, he's worn thick silver cuffs engraved with runes. They're clearly magicked-as he grows, they grow, and he's never been able to get them off.
Meanwhile, Raisa ana'Marianna, Princess Heir of the Fells, has her own battles to fight. She's just returned to court after three years of relative freedom with her father's family at Demonai camp - riding, hunting, and working the famous Clan markets. Although Raisa will become eligible for marriage after her sixteenth name-day, she isn't looking forward to trading in her common sense and new skills for etiquette tutors and stuffy parties.
The Seven Realms will tremble when the lives of Han and Raisa collide in this stunning new page-turner from bestselling author Cinda Williams Chima.
-----




Dreamland
by Sarah Dessen
(I think this almost completes my Dessen collection!)
Rogerson Biscoe, with his green eyes and dark curly hair, is absolutely seductive. Before long, sixteen-year-old Caitlin finds herself under his spell. And when he starts to abuse her, she finds she's in too deep to get herself out...
-----


I'd Tell you I Love You, But Then I'd Have to Kill you
by Ally Carter
(Sounds fun!)
Cammie Morgan is a student at the Gallagher Academy for Exceptional Young Women, a fairly typical all-girls school-that is, if every school taught advanced martial arts in PE and the latest in chemical warfare in science, and students received extra credit for breaking CIA codes in computer class. The Gallagher Academy might claim to be a school for geniuses but it's really a school for
spies.
Even though Cammie is fluent in fourteen languages and capable of killing a man in seven different ways, she has no idea what to do when she meets an ordinary boy who thinks she's an ordinary girl. Sure, she can tap his phone, hack into his computer, or track him through town with the skill of a real "pavement artist"-but can she maneuver a relationship with someone who can never know the truth about her? Cammie Morgan may be an elite spy-in-training, but in her sophomore year, she's on her most dangerous mission-falling in love.
-----

Happy reading!