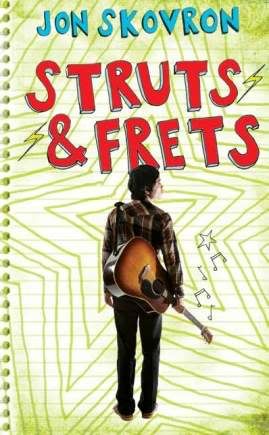 From Amazon:
Music is in Sammy's blood. His grandfather was a jazz musician and Sammy's band could be huge one day - if they don't self-destruct first. Winning the upcoming Battle of the Bands would reassure Sammy that his life's dream could be a reality. But practices are hard to schedule when Sammy's grandfather is sick and getting worse, his mother is too busy to help either of them and his best friend may want to be his girlfriend. When everything in his life seems to be headed for major catastrophe, will his music be enough to keep him together?
Struts & Frets
is the story of Sammy, a teenage boy with an intense love of music. As a music fan myself, I know how important one song or one album can be, and how music can define life-changing moments.
Struts & Frets
emphasises the importance of music and lyrics, and explores friendships that form because of a shared interest.
Sammy literally lives and breathes music, and it's all he wants to do in life. His mum isn't overly supportive of his aspirations, though his tight group of friends are. They get him, understand him, and accept him for who he is. Jen5, his best friend turned love interest, is like his creative equal: she paints, she's individual, and she understand what it means to be passionate about something. She brings Sammy out of himself, and is the perfect compliment to his character.
This book is told from a male perspective, which is such a change from other YA I'm used to reading. Although boys are obviously different and, at times, can be as indecipherable as a foreign language, it's good to know that they go through the same things we do. They worry about what people think, they have relationship issues and, from time to time, they have trouble cracking the code that is women. Who knew, eh?
Struts & Frets
has a strong cast of characters, unbreakable friendships and a realistic, ordinary romantic relationship. It's all about trust, family and, of course, music. It's about one boy's self-acceptance and belief in himself, and finding the knowledge that no dream is worth giving up on. It does lack some depth throughout the first half, though plenty of family drama suitably shakes up the direction of things, and makes it a novel that's quite hard to put down.