Out of the Blue
was one of my
favourite reads of 2009
, and I hope it will reach a wider audience in 2010.
Here's the lovely author Val Rutt to tell us more...
----------
Out of the Blue is a brilliant book set in WWII. What inspired you to write about this period in history?
Thank you, I'm glad you enjoyed it. As a child, in the sixties, I saw and took for granted things that were leftover from the war – there were still a few bombsites, pre-fabricated housing, the siren on the roof of the police station. We had an air-raid shelter in our garden and there was a public one in the local park. But it wasn't until fairly recently that I considered just how soon after the war I was born and how recent an experience it would have been to the adults in my life when I was growing up in the sixties.
I talked to my mother about living in London during the Blitz and she told me that my eldest brother had crawled early and she thought it was because everyone rushed about when the siren started and Laurie would writhe and squirm and scrabble across the floor to be picked up. That's quite an image isn't it? I had a very happy childhood – big family; lots of aunts and uncles and cousins living nearby, family picnics and games and laughter – but just a few years earlier the adults had lived through this terrible nightmare. I wanted to find out everything I could about it.
Were any scenes from Out of the Blue based on real life events?

Yes, there is a devastating event in the novel that is based on a real wartime incident – and I know about it because my dad was there… I'll say no more here, in case I spoil the story for someone, except to say that, happily, my father survived and I wouldn't be here if he hadn't.
Did you always intend to write this story over two different time frames?
I had written the opening scene of the back-story, where young Kitty falls from the bicycle and meets Sammy. Then I wrote a few later scenes developing the relationship between Kitty and Sammy – which was a joy to write. Then, quite suddenly, I saw the old Kitty really clearly. I had a very strong sense of her looking back and the memory being a sweet and precious thing. It was obvious how to do it then; I just needed to keep the present day Kitty small so that her story didn't take over from young Kitty's.
Has your work as a teacher affected your writing in any way?
In lots of ways - In literacy lessons I think hard about the process of writing when I want to explain how a writer might achieve a certain effect. If my students don't understand something then I have to find a way to illustrate what I mean. It is fun and creative and I often get an insight into how I might tackle something that I am working on. Also, I tend to use a narrative style when I teach - even if I'm teaching maths…! If I have a spare few minutes with a class I'll tell them a story and I'll start with the first thing that comes into my head.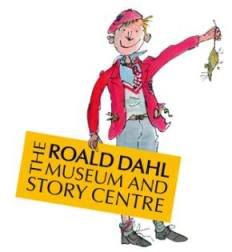 What was it like working at the Roald Dahl Museum here in the UK?
I really enjoyed it and it was fun, interesting and a very productive time for me. My first two books,
The Race for the Lost Keystone
and
The Mystery of the Darkstone
were fantasy adventures for 8-12 year olds with larger-than-life characters and fantastic implausible inventions – anyone who writes that genre is indebted to Roald Dahl who was a master. At the museum they have archived his work and it is fascinating to look at the early drafts of his stories.
I was plotting
Out of the Blue
when I was there and I was obsessed with WW2 planes, as I knew that Sammy would be an airman. Dahl flew a Spitfire in WW2 and there is a short film sequence projected onto a giant screen that I watched over and over again. Being writer-in-residence meant that I could wander round the museum and story centre on my own when it wasn't open to the public. I used to walk through the museum soaking up the atmosphere – and because of the excellent interactive displays Dahl's voice, reading from his autobiographies, would follow me around. That was wonderful.
Which age group do you prefer writing for: teens or younger children?
I can't really answer that because it isn't a preference thing rather a matter of what I want to write next.
Are there any particular books, adult or teen, that made you want to be a writer?
Well, I had a strangely vivid reverie after reading a fairy story about a giant with seven-league boots when I was quite young. I was recovering from an illness that meant I had to stay in bed during the day and after reading the story I began to imagine it from the giant's point of view. I was unsure whether I was awake or asleep; it was like dreaming but being in control of what happens and it was thrilling. I strode across tiny fields and villages while many metres below me minute people fled in panic. Cows galloped haphazardly across their meadow afraid of the darkening shadow of my descending foot. I felt hedges and fences crunch beneath my tread and a man fell from his horse when it bolted. When I shouted, "sorry!" to him, the blast from my breath flattened trees and knocked over the tombstones in the churchyard. The sun shone hot on my head and shoulders, birds flew past at waist height and wisps of cloud momentarily caressed my face and were gone. Now, when writing is going well I get the same feeling that something real is happening – it's just like controlling a dream and I love it.
What's next for you?
I'm plotting away, daydreaming – getting stuck and having the occasional flash of inspiration! Too soon to say more than that.
-----
Related links: