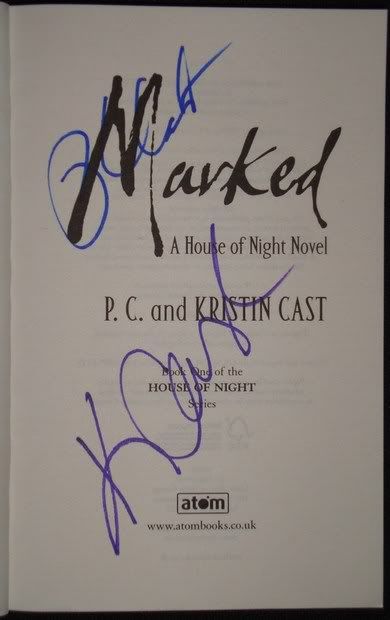 I never host giveaways for reaching certain follower numbers, but because 500 is pretty amazing (I still can't believe it!), and because I've had a good week, I'm going to do it just this once. I've been saving this book since August, I think, as other giveaways etc.. got in the way. It's a UK paperback copy of
Marked
, the first book in the
House of Night
series, and is signed by both authors.
Here's Amazon's synopsis:
When sixteen-year-old Zoey Redbird gets Marked as a fledgling vampire she must join the House of Night school where she will train to become an adult vampire. That is, if she makes it through the Change. But Zoe is no ordinary fledgling. She has been chosen as special by the Goddess Nyx and discovers her amazing new power to conjure the elements: earth, air, fire, water and spirit. When Zoey discovers that the leader of the Dark Daughters, the school's most elite group, is misusing her Goddess-given gifts, Zoey must look within herself to embrace her destiny - with a little help from her new vampire friends.
Rules & info:
This giveaway is open

worldwide

.
Only one entry per person, please!
You don't have to follow my blog to enter.
Just leave a comment on this post, with a

contact email address

, and you'll be entered into the giveaway. (Or if you're a blogger and don't want to leave an email, a blog address is fine).

End date: Thursday 4th February.
Good luck, and thanks once again to everyone who has ever taken the time to visit/read/follow/comment on my blog. You are all ace! (And yes, I have kept my other signed HoN books, this isn't the only one!)
Edit
: If the comment form doesn't work for you, just send me an email, and I'll add your name into the big hat (or bowl) at the end.