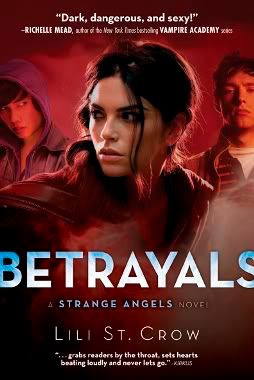 Publisher:
Quercus
Format:
Paperback
Released:
November 4th, 2009
Grade rating:

C+



Amazon summary:
The second novel in the
Strange Angels
series continues with Dru neatly tucked away in a Schola that's more like a prison than a secret training facility. But a traitor in the Order wants Dru dead and she can't trust anyone except for Graves. Too bad he's being kept busy with a new crew of wulfen teens and doesn't have time for her. Will Dru survive long enough to find out who is really after her?
Review:
Betrayals
picks up where
Strange Angels
left off, and plunges Dru straight back into danger. It's just as fast paced as its predecessor, with enough fight scenes to make you think you're watching an action movie.
I like the story and supernatural theme of this series, but I can't seem to connect with the characters. Dru isn't very personable and is quite closed off, and I think that's what's giving me a hard time with her. I understand that she's been abandoned, betrayed, and generally treated badly during her life, but despite all that, I don't seem to have any strong feelings for her one way or the other. Maybe it's just me, but her character seems a little bit flat.
Graves really comes into his own in this book, and stops relying on Dru so much. He gets some friends, a stable place to stay, and a life of his own. Along with his pack of wulfen roommates, he's my favourite part of
Betrayals
, and gives Christophe a run for his money in the knight-in-shining-armour sweepstakes.
If I liked Dru more, I have no doubt that this would be one of my favourite series. The vampire and werewolf mythology will always make me excited for the next instalment, as will Christophe and Graves. St. Crow has some very strong male characters, and she uses them so well that I can easily look past my detachment from Dru. These books are lightning-fast reads that end up being hard to put down, and I hope they continue to improve as the series progresses.